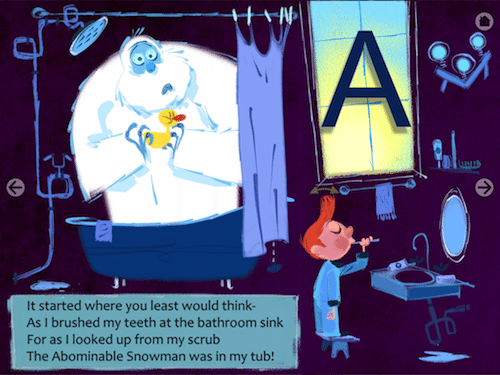 TWA: This list of
 25 iPad Apps for Early Childhood Education
was originally posted on
Early Childhood Education
Degrees
.
TeachersWithApps
has reviewed a number of the apps included, so we thought we'd share it with our viewers too.
Being a child is hard. The world is new, and there are a lot of things to learn. And re-learn when we get it wrong. As we grow, sounds turn into words, words gain meaning. Then people start throwing numbers at us. First, they're small numbers, then they grow. They want you to do what with them? Understand their value, their order. Add them, subtract them. Now it's back to words, which now come in clusters called sentences. Which we have to write stories with.
And that's just the beginning. There's a lot to learn in our early years on which our later years rely upon. Fortunately, today's children have tablet computers like the iPad. In addition to the touch features being incredibly addictive, there are thousands of apps that making learning fun. In no particular order, here are 30 fun and educational iPad apps aimed children in the "early childhood education (ECE)" group. Definitions vary, though it covers kids about 3 to 9 years of age.
Notes to parents and guardians:
All prices are in U.S. dollars, though some publishers are outside the U.S.
Check iTunes profile for a given app to find out the minimum version of iOS your iPad needs.
Where age range listed here for an app does not match the iTune profile, note that the range here was provided privately by that app publisher as more accurate than iTunes' age categories.
We suggest that you preview apps in private before allowing your children to use them.
Accompany children during their first few uses of an app, to show them how to use it, to answer questions.
Some parents like to establish certain parts of the week and day/ evening for when tablet use is permissible.
Tablets — especially iPads — can be addictive. Monitor your children and make sure they balance their time with physical activity, and that they are not downloading apps on their own.
Some experts believe children under four years of age should not be overly exposed to tablet computers.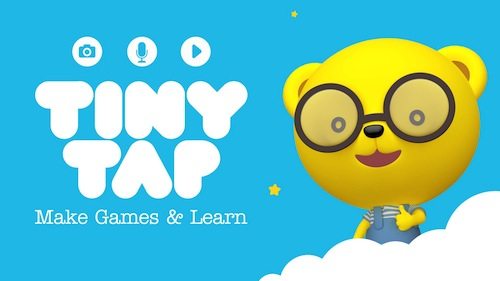 Are your kids bored of their iPad apps? TinyTap lets them make their own, share them with others, and play games made by thousands of other users, including teachers. Games can be educational, including for learning math, words, grammar and more. Add images, record questions in audio and more. TinyTap can be used by children 6 years old and up to create games, and by kids one or older to play. It's also a great app for teachers who want to create custom games for their young students. In-app purchase modules for various topics including farm animals, dinos, music and more are available.
More Information:
Publisher/ developer website
iTunes profile page
Age range: 6+ to create, 1+ to play Price: Free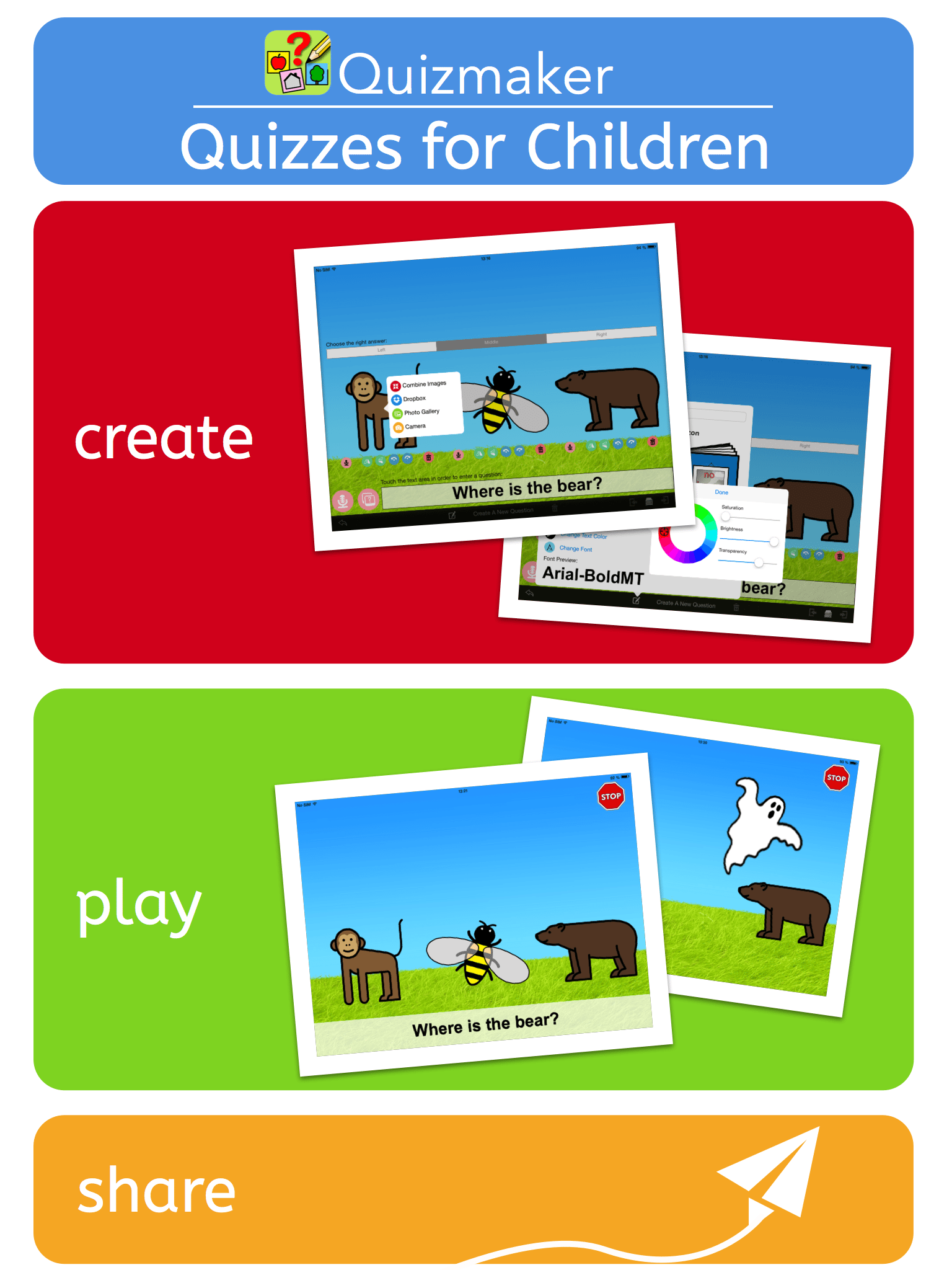 Quizmaker is an app developed by an Occupational Therapist working with special needs children in a German school, and her son. The app has two modes: quiz taking and quiz making. The former lets kids take quizzes, and the latter lets parents and teachers create custom picture quizzes about the subjects their kids enjoy. Add audio instructions for each question, as well as a set of "positive" and "negative" feedback audio recordings that play depending on who a quiz question is answered. Create quizzes with one or more multiple choice questions and add pictures (3 choices per question) for the answers. Pictures can be from your Dropbox account, the iPad's gallery, or fresh from the camera. Use your own backgrounds for quizzes, or download a set of free backgrounds right from the app. When you're done creating a quiz, you can export it (and others) to Quizmaker format and share that via email.
More Information:
Publisher/ developer website
iTunes profile page
Age range: 4-5 Price: $2.99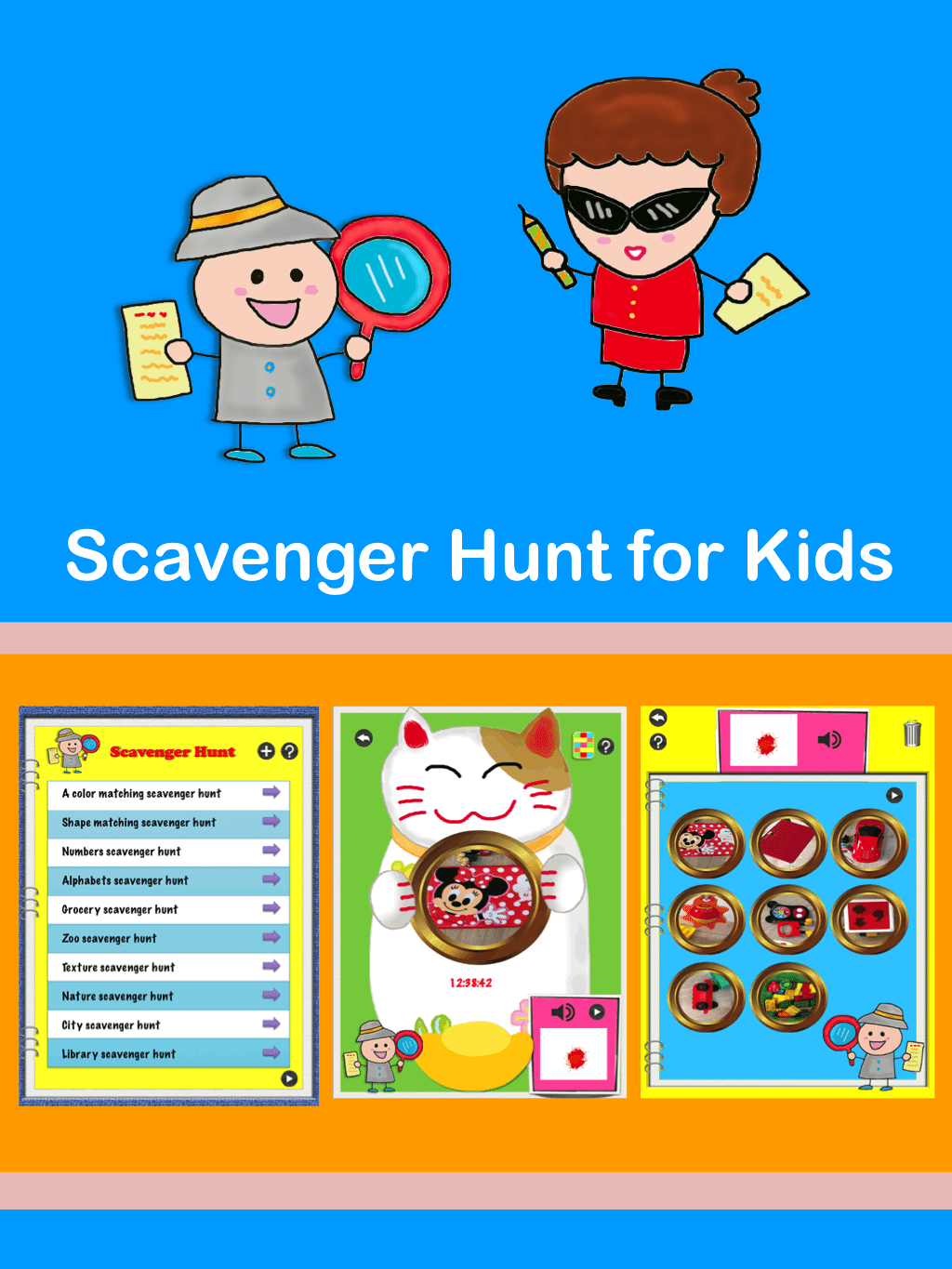 Scavenger hunts are fun, but they can also be educational if you plan them that way. The "Scavenger Hunt for Kids (I Spy for Kids)" iPad app lets teachers and parents create scavenger hunts that can include numbers, shapes, and letters of the alphabet, as well as other objects. Add items to a hunt by typing in a sequential list of items to search for, and adding pictures and images as aids. Kids check in with the adult on each item they find. So kids learn while combining physical effort to find items.
More Information:
Publisher/ developer website
iTunes profile page
Age range: 5+ Price: $0.99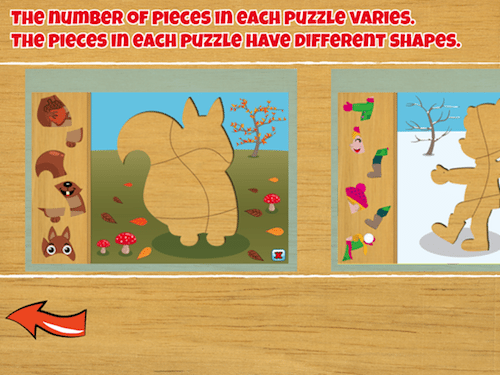 The Teacher Tilly puzzles app (one of several Teacher Tilly apps) teaches 2-4 year olds problem solving, sorting, organization and other skills through a variety of puzzles. The included puzzles have voiceover tips from "Teacher Tilly," which helps kids learn vocabulary. (The iTunes profile says that the app is used by speech therapists to aid children in practicing new words.) Solving puzzles wins virtual balloons, and you can create new puzzles from photos. Coloring pages are available for download and printing as well.
More Information:
Publisher/ developer website
iTunes profile page
Age range: 2-4 years Price: $1.99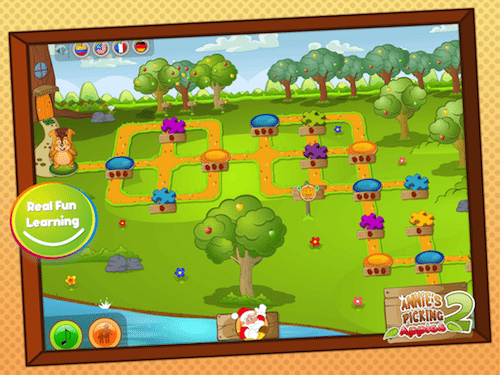 Annie's Picking Apples let kids navigate an animated squirrel along different spots on a map. When you stop the squirrel on a puzzle piece, you see a 2d jigsaw puzzle board. Stop on a colored circle and play a variety of math games. One is a counting lesson where you pull different colored apples from trees into the right baskets — teaches counting up to 20. Another is an animated conveyer belt system with different sections, which teaches sequences. There is a total of 27 "worlds," and adults can set the difficulty level and set the amount of play time. Kids can practice in four languages: English, Spanish, French, and German.
READ TWA review of Annie's Picking Apples 2
More Information:
Publisher/ developer website
iTunes profile page
Age range: 3-7 years old Price: $2.99
Henri gets out of bed, happy that its Saturday. Today, there's a 7th birthday party for his best friend Hanna's. You can help Henri get dressed by dragging and dropping items of clothing onto him from his closet. Next, help Henri pick a toy gift for Hanna from the toy story and get it wrapped. Before Henri goes to the party, he has to put a few things away in his bedroom first, by dragging and dropping them into the right box. The Hanna & Henri app combines these sorts of exercises with games, to teach children a variety of things including sorting and counting, as well as simple tasks.
More Information:
iTunes profile page
Age range: 3-6 years old Price: $4.99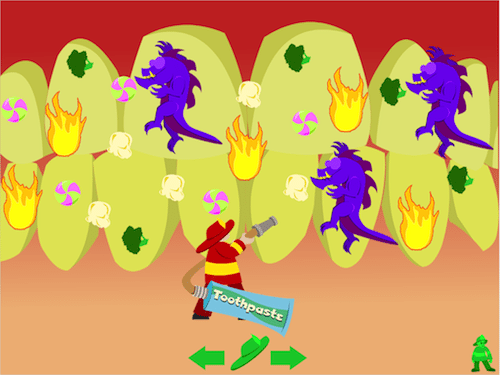 Can't get your little ones to brush their teeth? Gooseling's Cavity Dragons Jr. app could help by showing them what happens to teeth without brushing. (Or, depending on the age of your kids, try one of the other Cavity Dragon's games from Gooseling.) One game in this app shows a set of teeth with food residue. Animated dragons also shoot fire onto the teeth. To win the game, help the fireman with his toothpaste hose clear out the spots of food. If you're too slow, cavity forms and the tooth goes gray. Get too many gray teeth and they all fall out. Another game has a fireman riding a toothbrush like a skateboard, whom you have to help clean the teeth. Win virtual stickers as rewards, complete a tooth puzzle and help decorate the fire station. Gooseling also has a free Fire Station Cavity Dragons iPad app in the Apple App Store.
More Information:
Publisher/ developer website
iTunes profile page
Age range: 2-5 years old Price: $2.99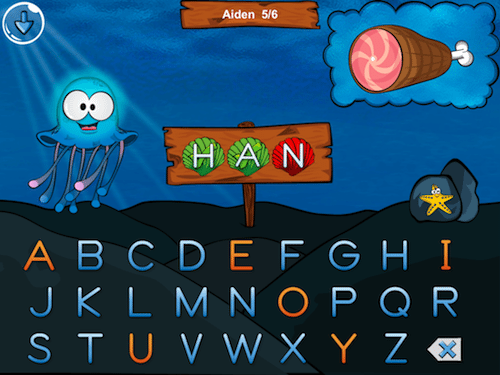 Pyxwise's "Spellyfish Phonics – Short A Words" is one of the several apps in a series, aimed at teaching spelling and phonics and aligned to Common Core. This one focuses on English words that are short and have the letter 'a' in them. Children can choose which word puzzle group they'd like to solve. E.g., "_an" words (end with "an" and are three characters long). Spellyfish the jellyfish gives animated commentary, explaining the word to be spelled out, and its context. As each letter is tapped, Spellyfish sounds it out as relevant to the world, effectively teaching phonics. For more advanced tests, there are Spellyfish apps for kids 5-6 and 7-9 — in all covering Kindergarten to Grade 5. Pxywise also has a Simplex Spelling series, and there is a free Simplex Spelling Lite that has reverse phonics.
More Information:
Publisher/ developer website
iTunes profile page
Age range: 4-5 years old Price: $2.99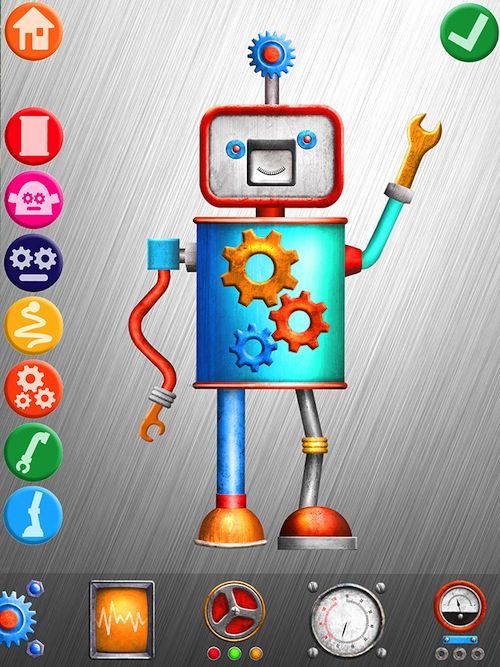 On the surface, Tiny Twiga Studios' Tiny Robot Maker app seems like it's just about robots. However, there's more to it than that. Kids get to play with robot illustrations, and mix and match parts, while also learning about color, shape and even parts of the human body. Tiny Robot Maker also has a free mini-coloring book with a birthday card that can be downloaded and printed out, as a supplement to the app.
READ TWA review of Tiny Robot Maker
More Information:
iTunes profile page
Age range: 2-5 years old Price: $3.79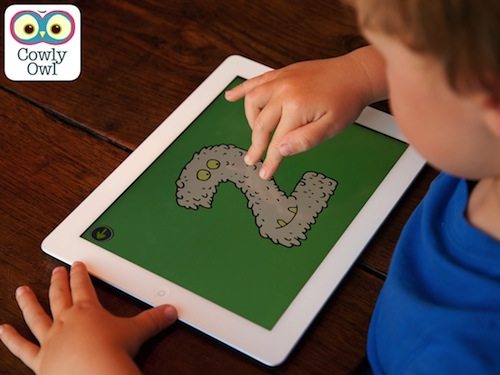 The Little Digits app makes counting to 10 fun by taking advantage of the iPad screen's multi-touch gestures. While in counting mode, tap the screen with one finger to indicate the number 1, then tap with two fingers for number 2, and so on. (Turn off "multi-touch gestures" in the iPad's settings.) Kids can do addition and subtraction math the same way, simply by tapping the screen with the correct number of fingers. If there are too many or too few fingers, the animation shows the number of fingers and plays a sort of low horn sound. For the correct fingers, there's a pleasant xylophone sound, and the illustrated numbers dance.
READ TWA review of Little Digits
More Information:
Publisher/ developer website
iTunes profile page
Age range: 2-5 years Price: $1.99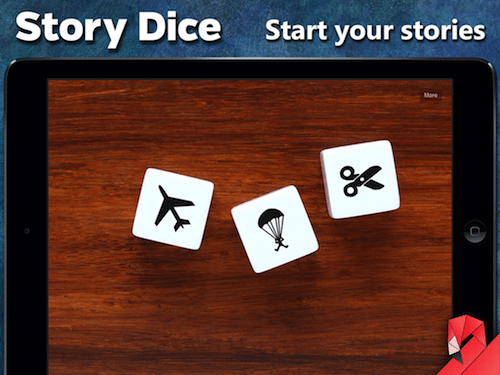 Story Dice by Thinkamingo possibly has one of the simplest interfaces of all apps in this list. Still, that simplicity leaves room for storytelling that ranges from simple fun to complex. Use the Settings to set the number of dice (2 is the default, 10 is the max). Now tap the screen or shake the iPad to "roll" the story dice. Play charades, sing a song, say a poem or make a story out of the images showing on the story dice. There are 170 pictograms in all, sourced from The Noun Project. In addition to helping children who are having difficulty reading but who understand images, this app can be used by adults as well.
More Information:
Publisher/ developer website
iTunes profile page
Age range: 4+ years Price: $1.99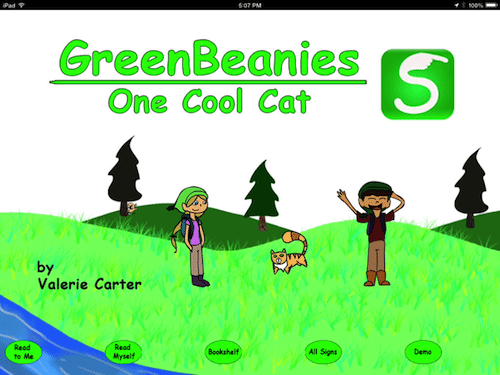 Designed for use with special needs children or those with language/ hearing challenges, the Sign Me A Story app teaches kids to communicate through sign language and reading through story and video. The first story, "GreenBeanies – One Cool Cat," is free. Tap an emphasized word in the text of a screen to see a video that teaches how to sign that word. Story one teaches 14 signs, including morning, day, eat, happy, home and others. The second story, "GreenBeanies – Two Magical Hats," teaches an additional 12 signs and is available through a paid in-app purchase ($1.99). (Story three to come.) The stories are interactive and meant for children at the higher end of the ECE age range, though some younger children may enjoy them as well.
More Information:
Publisher/ developer website
iTunes profile page
Age range: 6-11 years Price: free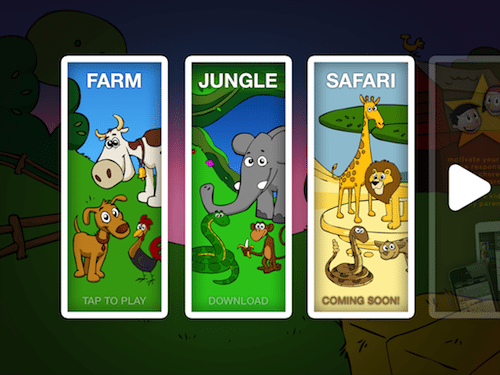 GotClues' Peekaboo HD teaches children animal names and sounds through different categories. The Farm module is included in the app and includes rooster, cow, duck, horse and more. The app gives animated clues to children on where to tap to reveal the animal whose sound they're hearing. Additional modules available for purchase are Jungle and Safari (releasing Jun 2014). For languages, you can choose one free option from English, Cantonese, German, Mandarin, and Spanish, then buy more languages later. (Danish is an option in some of the games)
More Information:
Publisher/ developer website
iTunes profile page
Age range: 2-5 Price: free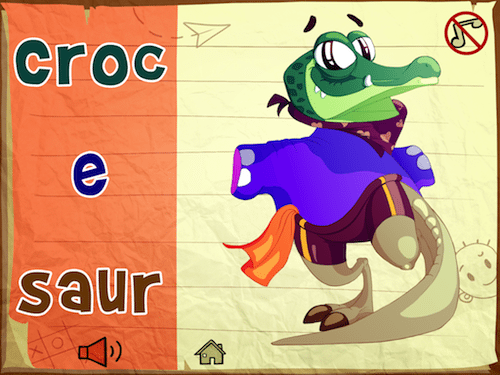 PlaneTree's "Animals Flip and Mix- ABC Cognitive Game for Kindergarten and Preschool Kids Explorers" app, or Animals Flip and Mix for short, consists of a fun mix-and-match feature where kids can interchange three parts of the illustrated screen to create new creatures. The goal is to match top, middle and bottom parts of the screen by swiping each part left or right until the differently colored syllables match. While trying to match the parts, kids can create creatures that are combinations of fruit and animals — over 2,000 combinations in total – as well make up fake words from the syllable combos. When the three parts match, the apps show a different interactive puzzle or animated scene for each word. Animals Flip and Mix teaches motor skills and visual perception, matching, spelling and more.
More Information:
iTunes profile page
Age range: 4-6 years Price: $1.99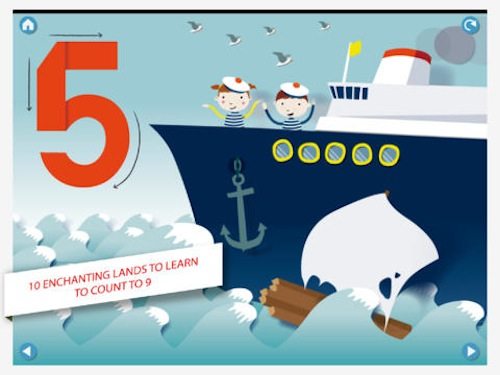 Montessori Numberland is a counting app from 3 ELLEs, an award-winning developer of educational mobile apps started by Montessori teachers in 2010. Through a series of illustrated screens, the app teaches numbers, counting, and quantity simultaneously. Children can trace the number in the direction shown by the arrows, as well as tap the same quantity of something displayed on the screen — such as five seagulls, four blocks, eight leaves, etc. Other apps in the 3 ELLEs Montessori series include Montessori Letter Sounds (ages 4-7), which has phonics in English, Spanish, French and Italian; Montessori Geometry (ages 5-10); Montessori First Operations (ages 5-7), which teaches addition and subtraction; Montessori Math: Add & Subtract Large Numbers (ages 6-9); and Montessori Math: Multiplication (ages 6-10).
More Information:
Publisher/ developer website
iTunes profile page
Age range: 3-5 years Price: $3.99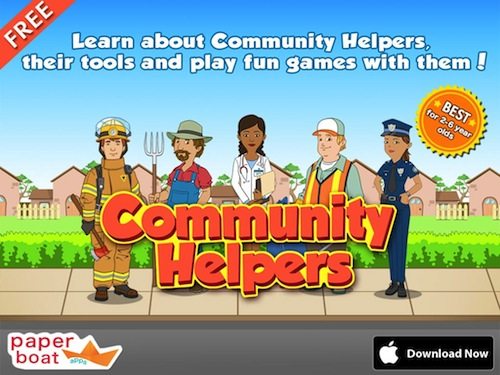 Paper Boat's "Community Helpers Play & Learn" app teaches children about the people in various community-centric professions. This includes teachers, postal carriers, firefighters, farmers, and more. The free version includes four people (doctor, police officer, mechanic, plumber). There are two modes: Learn and Play. In the Learn mode, kids can tap a person to find out about their profession, and tap on various items that person uses to learn about those. In the Play mode, kids can play drag-and-drop learning games, such as helping the plumber fix some pipes, or helping a police officer with the description of a suspect. Community Helpers was featured by Apple in the "Best New Apps and Games" category.
More Information:
Publisher/ developer website
iTunes profile page
Age range: 2-6 years Price: free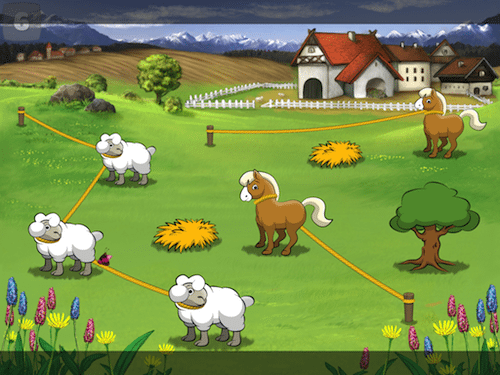 Kidcore Game's Lasso Kid is a free app that teaches hand-eye coordination/ fine motor skills and memorization, as well as logical thinking, sequences, intersection and more, through a series of illustrated screens that require kids to connect animals of the same type together with a virtual lasso. If an animal is not lassoed, it runs away. New activity levels are unlocked as one is completed. The difficulty level of each subsequent exercise increases, so older children can still be challenged. Parents can signup for free access to the Kidcore Web site for tracking their child's progress in the app, set daily usage limits and more. Or skip that and add player profiles. Players can use one of the pre-loaded illustrated human or animal icons or add a photo.
More Information:
iTunes profile page
Age range: 3+ Price: free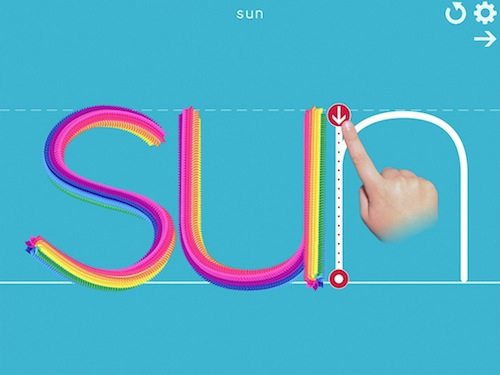 Award-winning educational app publisher L'Escapadou's Writing Wizard app helps kids learn handwriting of letters of the alphabet through tracing, as well as words and phonics with voiceover audio. Kids learn to write letters of the alphabet through animated clues showing the order of strokes. Sound effects and special graphics make learning more fun, and children collect stars for completing exercises. There are four interactive games included in this app, which was featured in the Apple App Store. Parents and teachers can get involved by creating word lists and customizing the app in terms of text font size, writing instrument style and ink color, drawing difficulty, speed and more. Adults can also track a child's progress (unlimited users), change letter sounds, indicate upper and lower case letters and more.
More Information:
Publisher/ developer website
iTunes profile page
Age range: 2-8 years Price: $2.99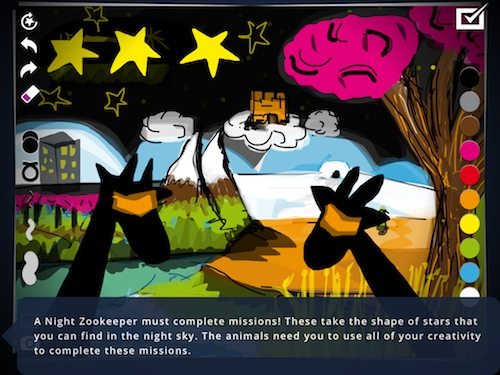 Wonky Star's award-winning "Night Zookeeper Teleporting Torch" helps kids creatively through an ongoing series of drawing and writing missions. (The app asks adults to register so that kids can receive daily updates for drawing and other creative missions.) The drawing interface has unlimited 'undo' capability, making it easier for kids to improve their drawing and painting skills while having fun participating in a world of time-traveling elephants and giraffe spies that defeat Fear Monsters. Don't be surprised if you hear your child roaring, as that's the secret to unlocking special stories. Parents and teachers can participate through the online dashboard
More Information:
Publisher/ developer website
iTunes profile page
Age range: 5-9 years Price: free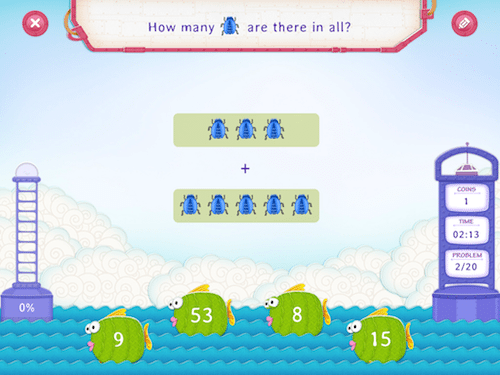 Splash Math is a multi-award winning app series used by over 4 million children (on iPads, laptops, and desktops) in 8,000 schools, and is aligned to Common Core math standards. The series covers grades 1 through five, and each grade app has a paid and a "lite" free version. The "Splash Math – Grade 1 to 5″ app is free and a good intro into the series. For evaluation, you can skip the sign-up and try it out. Set up the app for your child by entering their name and grade level. Lessons are self-paced, interactive and give rewards in the form of points, games and other prizes. Explanations are given for wrong answers, and new math topic categories are unlocked as points are accumulated. There are too many topics to list here, though, in the free version, you're only getting a preview. If you want more, from this free app, you can make in-app "lifetime" purchases for each grade, as well as a parent subscription.
READ TWA review of Splash Math Grade 1 - 5
More Information:
Publisher/ developer website
iTunes profile page
Age range: 4-12 years Price: free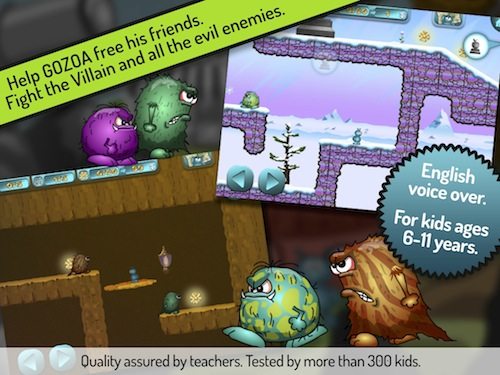 The "GOZOA – The Key Quest" app teaches kids by combining gaming paradigms such as a quest with object physics, math questions (counting, addition, subtraction, multiplying, division, times table, digital and analog time, etc.). By winning prizes and points, and finding keys, you complete parts of the quest and unlock parts of the goal — which is to help Gozoa free his friends who have been locked up in a castle. This is just one of several Gozoa apps, with a free "GOZOA – Play & Learn Math Lite" app that uses Angry Birds-style physics and teaches numbers (tracing, counting, etc.) and math. The app Publisher Edutainment4all is behind the highly-acclaimed and nominated series of family-friendly apps from GOZOA.
More Information:
Publisher/ developer website
iTunes profile page
Age range: 6-11 years old Price: $1.99; has free lite version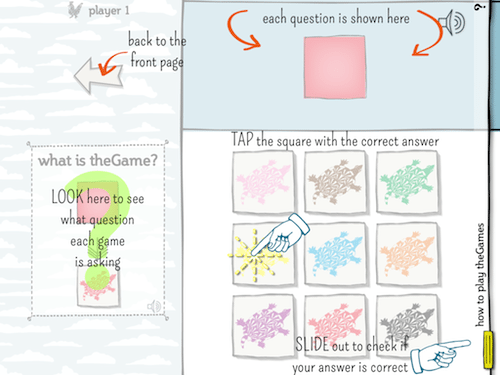 Maypop Designs' Kindergarten Math Standards app is one in a series aimed at different age groups. This one is for Kindergarten students, roughly 4-6 years old. It teaches topics for numbers (recognition, counting, sequencing, addition, subtraction, base 10, etc.), geometry (colors, shape, size, positioning, direction, patterns, outlines, etc.) and measurement. There are slide out panels that explain how a game is played. Complete a game and win points that can be applied to revealing sections of photographs from around the world. Kids can play solo or in groups (default four profiles; add more if necessary). Parents and teachers can configure what topics to include and which to turn off, to customize learning.
More Information:
iTunes profile page
Age range: 4-6 years old Price: $2.99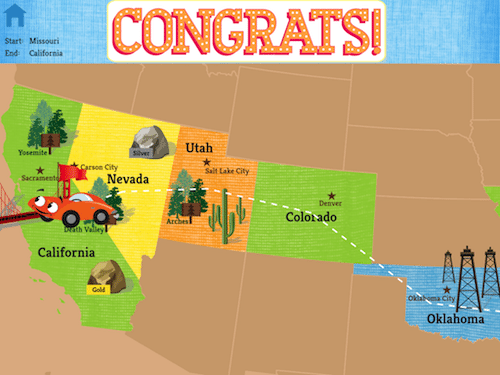 State Bingo and Road Trip US app gamifies the learning of geography topics, with a focus on Common Core standards. In addition to a study map that shows the different states and some important tidbits per state, there's a State Bingo game in three levels of difficulty, a road trip game between regions, and a timeline serially revealing which states joined the United States of America — with one state added every time you complete a challenge and "send a state to statehood." State Bingo asks a question about a state (abbreviation, capital, scrambled letters, lakes, weather, crops, etc.) and a 4×4 grid of states to choose the answer from. Once you get four states in a row answered, you win. In the Road Trip game, you move between adjoining states towards your goal. Get a question right and you advance. Get it wrong and you have to answer another question. See your hits and misses when you're done, then check the Statehoods feature to see which state joined the union next.
READ TWA review of State Bingo and Road Trip US
More Information:
Publisher/ developer website
iTunes profile page
Age range: 7+ years old Price: $2.99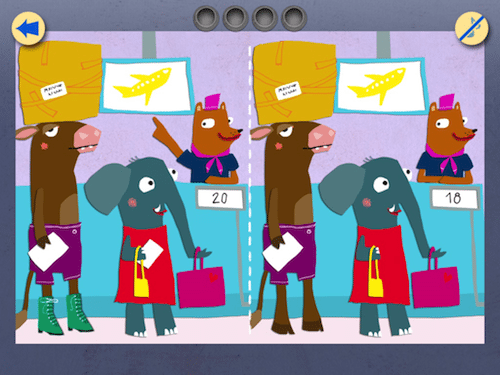 Apppmedia's "My First App Vol. 3 Airport" is an award-winning app that teaches children about various of airports and what goes on there. The app offers a combination of jigsaw puzzles, pattern matching by comparing two similar but different illustrations, visual motor and motor planning skills through a game where players have to drop balls into specific holes on a board by tilting the iPad, and more.
READ TWA review of My First App Vol. 3 Airport
More Information:
Publisher/ developer website
iTunes profile page
Age range: 2-4 years Price: $1.99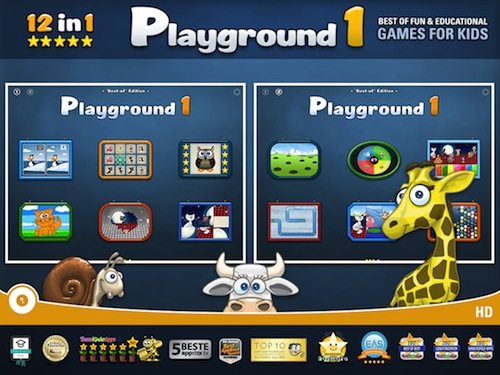 Jan Essig's multi-award-winning "Playground 1 – 12 Fun & Educational Animal Games for Toddlers and Children" app, or Playground 12-in-1 here for short, combines twelve different games that teach while it entertains children. Playground 12-in-1 consists of 12 different games that teach shape and image matching, patterns, counting, coloring areas with brush and paint bucket, erasing, music and more while helping improve fine and visual motor skills, logic, and problem-solving. Kids can play solo or with a playmate, and parents can set a timer for play durations. Featured by Apple as a Best New App. Other apps in the series include Logic Playground and Preschoolers ABC Playground, both meant for 4-7 year-olds.
More Information:
Publisher/ developer website
iTunes profile page
Age range: 3-6 years Price: $3.99