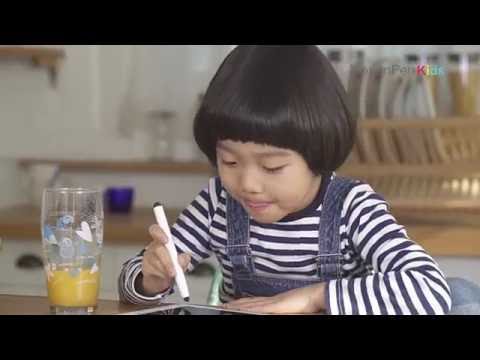 MotionPen Kids by Widevantage
is an answer to a prayer from parents, teachers, and clinicians who have children struggling with holding and using a writing instrument. It was conceived by the Korean designer Jaeyong Koh and brings forth the natural developmental perspective of a child's grasping pattern. The overall engineering and added features to this stylus are extraordinary and include an "eraser" and the ability to "Hover" over the iPad to enable 3D interactions in games/learning apps. In addition, a bonus that will surely have OTs and teachers squealing with delight is a feature that is called "Palm Rejection" that enables the child to rest their palm on the iPad surface in a natural writing position whilst the screen only responds to the tip of the pen. The stylus is waterproof, and does not require batteries or a Bluetooth™ connection to work, so it can be used on the go. Pens initially need to be registered with their own unique number and an email address. Each pen can be paired with up to 3 devices at a time – and this can be adapted on the fly. Widevantage currently has 5 apps to work with their stylus and are all currently free. There is a web browsing app,
MotionWeb
, that allows easier access to the pen's features along with these 4 kid-centric apps:
MotionPen
is a great place to start off and get to know all the features that are available. In the app is an open canvas set up in a notebook style to make lists or use photos that can be annotated. The pages can then be shared via facebook, dropbox, or emailed to friends or work partners to exchange ideas for collaboration. "Hovering" the stylus, allows for zooming in to magnify portions of the page for ease of viewing details.
MotionCrayon
is a drawing and coloring package, it allows for even the most hesitant kid to refine their skills from the more structured coloring pages to the free form drawing. There are 4 different color pallets from which to choose from. Kids can also select opacity or use of a pencil, brush or crayon effect. I am so happy to see on the coloring pages that the colors do NOT conform to the boundaries of the line. Kids need this feedback to refine skills, and it helps to build control through strengthening of hand separation skills and tool use. The drawing pages also allow helping build imitation skills and pre-writing strokes.
MotionLamp
is a Hide and Seek type quest game that really showcases the abilities of this stylus. By dragging your pen across the iPad, the stylus acts like a flashlight to compare or outline an image in parts. When kids have the answer, they simply tap on the answer button to make their best selection. This is not only a blast to play, but also helps with visual-perceptual skills – which directly generalizes to smoother sequential reading and writing skills.
MotionBody
is a phenomenal first app to get an inside view of the body. The "Hovering" feature is in full fantastic use unpeeling layers to see what goes on inside. Kids loved the fact that you could watch a kid eat a banana and watch it go down. The mini videos are the perfect length for young ones to explore the magic of the human body on their own. All were really cool, and you could choose to go deeper by exploring more detailed screens. The heart was a personal fav!
Why we like it:
The stylus has extra weight that provides feedback to the hand - that it is holding a tool. In fact, most of the kids that I worked with quickly adapted their grasp to a more mature hold, which really gobstopped me in terms of how quickly they responded to this stylus.
It nestles in the webspace between the thumb and index, facilitating a more mature hold and angle of use.
The features can be used if an app is compatible with the MotionPen's specs for a broad range of learning activities including writing, delving deeper into a picture to uncover layers on science or other apps, or highlight salient instructions.
What we would like to see:
Slight triangulation on the end point where a child holds the pen for proper grasp or tactile feedback i.e. bumpy texture at the end point where fingers should be placed.
Possibility of cooperating with the makers of other school age app developers to license or include compatibility with MotionPen Kids for use on their apps.
A one-time placing of your pen number or email when using an app. I had to reregister several times on apps with repeat use. (This could be an error on my part or some quirkiness with my particular iPad.)
MotionPen is a TWA top pick, and one of the best styluses on the market for kids. It's truly a bargain especially considering the generosity of this developer to add 5 free apps. This stylus will be coming out soon, and can be preordered from the developer's website: 
http://www.widevantage.com/en/home/
Jo Booth OTR/L has been an Occupational Therapist for over 35 years, and currently practices at EasterSeals of SEPA, Montgomery County Division mainly focusing in Early Intervention. It is an APS (Approved Private School) and home outreach based setting. She has also worked in Adolescent and Adult Rehabilitation. Writing reviews for Teachers With Apps has been a tremendous opportunity and experience to share and learn with others.