Last check, the video, 
A Magazine Is an iPad That Does Not Work
, about a one-year-old thumbing through fashion magazines, had garnered 4,343,063 views! Wow, that's an impressive number and this video continues to be watched. It raises some interesting questions and I am far from the first to blog about it. Take a watch and see what you think.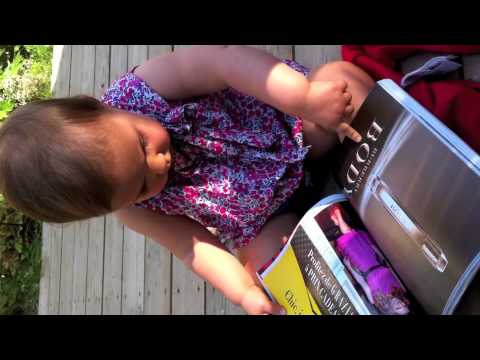 Funny to watch - but also sad in many ways. As a teacher and mother, I pride myself on being on the cusp of the latest technology and knowing where education is headed. On the other hand, a part of me longs for the good old days, prior to Touchscreens when babies chewed on board books. The GeekDad of Wired really explains what is happening here in regards to child development in his blog post, 
Why the A Magazine Is an iPad That Does Not Work Video Is Ridiculous
 by 
DANIEL DONAHOO
. "The real question is not about whether magazines will mean anything to children, but what role touch technology will play in developing or impacting on the development of those skills, how it will shape fine motor expectations and change strengths and abilities and just what it means for the future. There will be both positives and negatives, benefits and implications, but what is important is that we watch and learn from it and respond in ways that support children's development."
There is a growing controversy surrounding at what age devices are introduced to toddlers and many doctors recommend 
no screen time
 for those three and under. According to 
James Steyer
, CEO and Founder 
Common Sense Media
, National Children's Policy Expert and Media Entrepreneur Common Sense Media, "three out of four children have access to mobile devices at home, and while traditional screen time (television, DVDs, laptop and video games) is down 31 minutes a day, mobile screen time is up 10 minutes daily."  Common Sense Media has done their own research which talks of   "... a major wake-up call for parents, educators and the tech industry," Steyer says "The data reveal the rapid and profound changes in childhood and learning, and it is critical that we approach these major shifts in a truly ethical and responsible way for the long-term good of our children and our society." I'm all with Common Sense Media because change is just something that makes common sense! Therefore, please be cognizant of what is being put in the hands of infants/toddlers and curb screen time. My Two-Cents-Worth:  Moderation is the Key to Life...