Axel's Chain Reaction
, written by
Allison Pomenta
, illustrated by
Monica Armino
and developed in conjunction with
Cubic Jigsaw
, mesmerized every group of students we shared it with. It delightfully conveys a powerful and poignant message to the youth of today - don't give up! Try and try again, a concept many kids today have had little experience with. Teachers are going to love sharing this app time after time, and so will parents. The app features Axel Jansen, an inventor, and individual unaware of his lack of social skills. Axel also struggles with attentional issues and being "different".  He feels completely misunderstood by his peers, a secondary theme that runs throughout this spectacular book. Axel has difficulties with school and making connections with other kids. At home, he is the focused tinkerer who has spent years with a set of dominoes creating sophisticated "chain reactions". When a student talent exhibition is announced after studying kinetic artists, Axel is sure he can build an awesome moving sculpture and impress his peers. This is when the story gets exciting and kids get to play a bigger part through the cool interactivity. His parents are the heroes with supportive and encouraging remarks and a refreshing switch from the stereotypical storybook character. They continually cheer Axel on throughout his flawed creations. His dad gives him structural advice and asks Axel to think how he might do it differently. After another failed attempt his mother tells Axel to calm down, take a break and start over. She acknowledges how hard he has worked on yet another unsuccessful project and encourages him to come up with a new idea. She reminds him that what he has learned throughout the process is most important.
This app has more than character education going for it, there are many opportunities for children to participate in a variety of educational processes throughout the story, as well as extension activities at the end that provide hands-on projects for kids to build. Creativity is celebrated, science is explored, mathematical concepts played out, and a non-fiction component gives an overview of several kinetic artists work's including a video. The big day finally comes, all the children are entering the classroom with all of their projects when Axel is pushed by the bully, which starts a chain reaction of which most projects end up landing on the floor breaking. No spoiler alert here, you are going to have to run out and buy this app to see and experience the magical ending. Well worth every penny! Allison Pomenta and TWA had the opportunity to correspond, she shared some insights for teachers and parents:
Often kids who are rejected or ignored by their peers -and even underestimated or misunderstood by adults who surround them- due to behaviors they don't understand, are made to feel inadequate. The topics for discussion contained in this story are not only about the importance of art as a means for self-expression and exercising our creativity as a means of self-affirmation. It especially emphasizes the need for perseverance in spite of our own challenges, the importance of lateral thinking, and of giving everyone a chance to show their hidden talents. It can also be used as a springboard to talk about bullying and the importance of being optimistic.
 Allison responded to
Geek Club Book's
 inquiry:  "At the heart of your app is a special message for kids with special needs. Can you summarize it?"  
There's a message of hope. These kids have trouble being understood and appreciated by teachers and peers. They want to make friends. I wanted to not only let them know that they need to persevere in order to overcome their own challenges, but also that they have other things to offer that make them wonderful, and which other people will appreciate. Sometimes they'll need to seize the opportunity to show their hidden talents.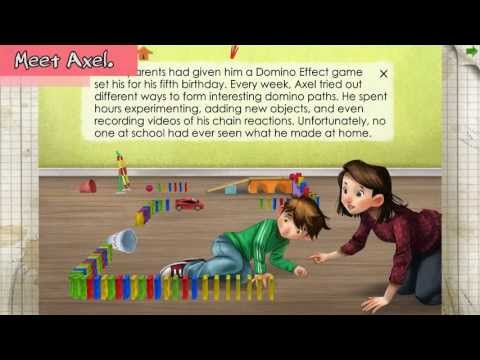 FEATURES
Allows for different levels of reader immersion.
Some of your interactions are needed to make the story progress.
Play a creation mini-game inside the story.
Optional settings.
3D open-ended game.
Hands-on activities.
Biographies and Glossary.
Hey, you're There… At the end of the story! Do you want to see Axel being silly...
PS: The developers released a
Lite Version
on DEC 19th, 2013 that FREE. They thought it would be a great way for teachers to be able to check out the initial 30% of the book (which contains the video of the kinetic sculpture and the part about Calder and Jansen). If teachers like it, they can decide to buy and recommend it to their Schools for the Volume Purchase Program. Nice idea!