Crisp P. Bacon: My Life So Far, by Len Lucero & Kristina Tracy and developed by Oceanhouse Media, is a heartwarming story about a lovable and inspiring handicapped piglet. This tale is based on the true story and popular YouTube video about a baby pig born with a congenital defect that hinders mobility in his rear legs. Len Lucero, a veterinarian, builds Chris his own cart to enable him to get around independently. This inspirational story is all about how Len designs this 10 day old pig a wheel chair made of toy parts, and how Chris is given a second lease on life. This endearing app has much to teach in the way of empathy and celebrating diversity.
Chris P. Bacon- an adorable baby pig who was born without the use of his back legs- as he tells the story of his life so far! Explore pictures, learn new vocabulary, and personalize the story with your own narration. Dive into this interactive book app and follow this inspiring little guy as he becomes a YouTube and talk-show sensation after his adopted dad, veterinarian Len Lucero, posts a video of the tiny pig learning to use his cart made of toys. What important lessons will your family learn in his first- but certainly not his last- book?
Explore the Story:
ENCOURAGE literacy skills with highlighted narration
FOLLOW along with three fun ways to read!
LEARN new vocabulary with tappable words and pictures
RECORD your own narration & share it with others*
SELECT a scene with easy-to-use navigation*
KEEP kids in the story with parental controls*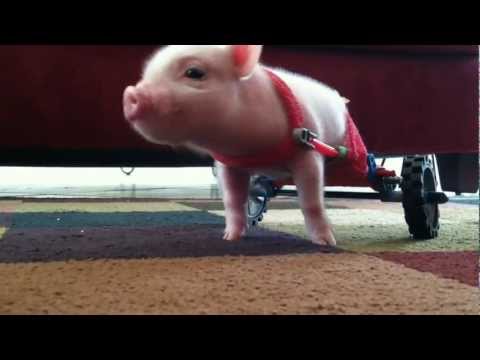 Pig in Wheelchair - Chris P Bacon, has had nearly 2 million views. This story teaches children about compassion, acceptance, and loving your imperfections. Chris P. Bacon was rescued by his veterinarian Dr. Len Lucero after a young woman reluctantly dropped him off to be euthanized because of a congenital defect that affected his rear legs. Dr. Lucero gave Chris a second chance at life, with two wheels strapped to the rear of his body. Chris is now a perfectly healthy and happy piggie on-the-go.