Dr. Panda's Airport
, is a wonderfully creative, exploratory play app that gives a lot of educational bang for the buck! Kids are exposed to inconspicuous numbers and letters, engaging and often tricky matching & mazes, as well as the challenge and excitement of landing the planes! Obviously, this app is set in an airport and there are 10 different airport-themed activities to keep kids engaged - such as air traffic control, baggage handling, passport control and security checks. One of the characters even gets stopped at security until he gives up his cell phone. Play for a time, and the travelers are awarded fabulous stickers to adorn the suitcase as their badge of honor! Dr. Panda's Airport by TribePlay (as are all of TribePlay's apps) is available on Android as well as iOS. This app is also available in the following languages: English, Chinese, Danish, Dutch, Finnish, French, German, Indonesian, Italian, Japanese, Korean, Norwegian, Portuguese, Russian, Spanish, Swedish, and Turkish, which really helps travelers out.
Have the travel bug?!
  Yes, we love to travel and that makes this app all the more appealing to us. Kids love it too, actually, they love all 16 of TribePlay's apps, and there is an entire series of Dr. Panda games with titles to expose children to many experiences from everyday to special! Take Dr. Panda's Airport app for a spin and if your youngsters are anything like the kids we worked with, you can add a new Dr. Panda whenever the mood strikes you by visiting their site 
TribePlay
. Teachers With Apps reviewed Dr. Panda's Hospital here.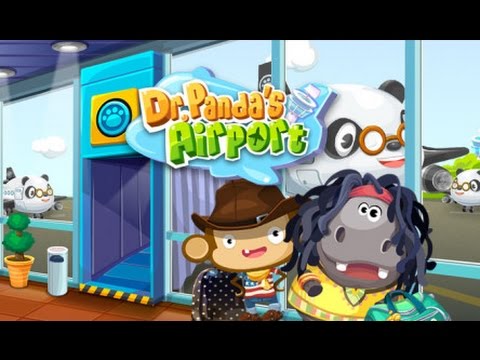 Then it's time to soar in Dr. Panda's Airport! Take flight in 10 airport-themed activities that will have you taking part in every part of the process! Stamp passports at customs, make sure luggage makes it to the right plane and even take control to help planes land safely. It's up to you to guide passengers from check-in to takeoff, so get ready to reach new heights!
Explore the airport, help people find their planes, stamp tickets and passports, make sure the planes are clean and ready to go and even get them to land safely! The sky's the limit in Dr. Panda's Airport!
Key Features:
- 10 airport-themed minigames. Help run everything from stamping passports to organizing baggage!
- Get familiar with the process of heading to an airport, from checking in to taking off!
- Dozens of secrets to discover in Dr. Panda's Airport
- Beautifully drawn graphics and carefully crafted animation
- No text and minimal UI, easy for anyone to pick up and play with no instruction
- Kid-safe: No in-app purchases or third-party ads
Take off today, with Dr. Panda's Airport! by Tribeplay