How I Became a Pirate
, by
Oceanhouse Media
and
Houghton Mifflin Harcourt
, has hit the app world by storm! This darling book, written by Melinda Long and illustrated by David Shannon, has won many awards as a hardcover; this app rendition is sure to follow in its footsteps! The pictures paired with the animations are a stellar combination. You are completely pulled into the story with its incredible point of view perspective and comic twists. This is one beautiful app. Young Jeremy Jacobs is minding his own business building a magnificent sandcastle when a pirate ship appears on the horizon. Jeremy can't seem to get his parents attention to show them the flag with skulls and crossbones. Instead, he invites Captain Braid Beard and his crew on a tour of his elaborate sandcastle. The captain decides that Jeremy is a good digger and since they were in need of one to help bury their treasure chest, the crew hauls him aboard. The adventure begins.. soon to be in full force on the high seas!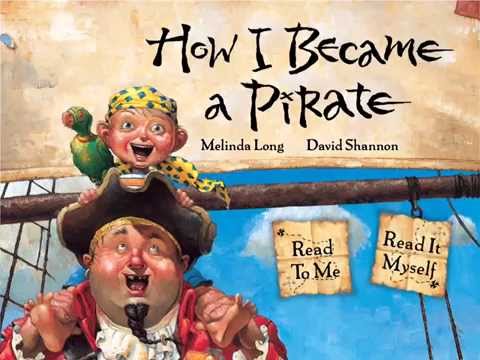 Jeremy quickly learns all the everyday rules he's accustomed to having been abandoned on this ship and he has the time of his life! Between learning the new lingo and reckless abandonment of all manners, Jeremy's introduction to teaching the Pirates soccer, and the pillow fights, everything is smooth sailing... until a serious storm sets in that night. Jeremy gets the idea to abandon ship and leads the crew, along with the treasure chest, to conveniently bury in his own backyard.
As with all the Oceanhouse Media book apps, this app is highlighted by professional narration, picture and word association, and words zooming up to be spoken when pictures are touched. The "How I Became a Pirate" app also includes Oceanhouse Media's
Record and Share
feature, which enables the reader to record their own voice reading the story and share with friends and family. As you can well imagine, this feature is a huge favorite with all the kids we worked with, considering the language and ruckus aboard ship!
 Reading: 
ENCOURAGE literacy skills with highlighted narration
LEARN new vocabulary with tappable words and pictures
INTERACT with interactive diagrams, glossary words and more!
RECORD your own narration & share it with others
KEEP kids in the story with parental controls
Designed for children ages 5-8. Teachers With Apps see this app being enjoyed by the whole family!
"How I Became a Pirate" app is soon to become a modern day classic adored by children and parents everywhere."