Middle School Confidential 3: What's Up with My Family?
, by
Electric Eggplant
, written by the award winning tween/teen author Annie Fox, is a perfect addition to the previous two Middle School Confidential graphic novel apps.  All of the same characters return, and the story lines evolve around family dynamics and the differing difficulties they are all dealing with. The themes cover everyday issues such as family configuration, difficulty with acceptance of family rules, the trials, and tribulations involved in gaining independence and guides to help kids resolve conflicts. Challenges involve sibling rivalry, divorce, bullying, and the general difficulties of growing up. The talented
Matt Kindt
 has done a fabulous job once again with his edgy illustrations, keeping the format varied and giving kids the chance to zoom in and explore up close. A very cool feature.
Family drama between the grown-ups and the maturation of their children has been going on since the beginning of time. Not communicating and ignoring the issue only exacerbates the situation. Worse yet, the "Not my child," syndrome – continues, and is reaching epidemic proportions with the internet. More than ever before, we need to be communicating with our children! This comic book approach is very appealing to kids and facilitates readers to stay engaged throughout each chapter of the story. We shared this app with the same group of kids that helped us field-test and review the first two Middle School Confidential apps, having them familiar with the characters and format allowed them to jump right in and give us valuable feedback.
Chapter 1 - very good intro, we like the way you use diverse families and many kids can relate to the too many questions, or maybe they wonder why they aren't being asked more questions by their parents…
Chapter 2 – Delicate topic, parents need to be careful how they make their children feel about their weight.
Chapter 4 – Parents do know best, even it it's not fair.
Chapter 6 – LOVE the surprise ending!
Chapter 7 – Like, like, like – families gotta be there for each other!!!
Chapter 8 - Good end, stuff like that really happens...
The interactive quizzes give the app more validity and are a perfect tool to explore family situations and learn from the character's experiences. Great for opening up channels of communication and gives real affirmation to kids that everyone's family is different. Perfect for the home or school setting. Pass the word, this app is spot-on in helping this age group and their families deal with tough times! Share this app with teachers, school counselors, administration, the PTA or PTO, and other parents who have tweens or teens.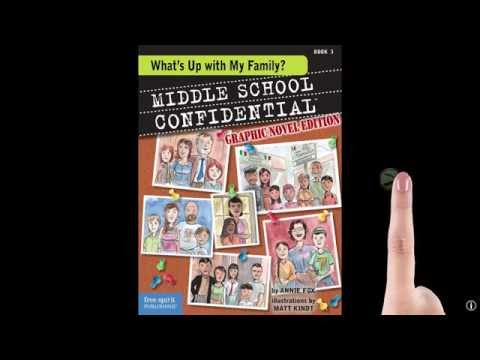 Bonus:
My Family is CCSS Aligned—download our free Project Based Learning guide.
Drama with family members can cause tweens and teens to do things that get them in big trouble and leave them feeling confused and frustrated. Based on Book 3 of the award-winning Middle School Confidential™ series, What's Up With My Family?, this app goes home with Jack, Jen, Chris, Abby, Mateo, and Michelle from apps 1 and 2 as they deal with the fact no family and no family member are "perfect." They run into a wide range of family matters from sibling rivalry to divorce to dealing with strong emotions in heated situations. 
FEATURES
• Graphic novel format for easy reading • Eight interactive quizzes test what you would do in a sticky social situation • Page swipe or touch page edges for easy navigation • Auto-save feature remembers your place in the story • Info page allows you to jump to the beginning of any of the eight chapters • 38 pages of story plus bonus Meet the Cast pages • Two modes of reading: full-page mode or double-tap to zoom-in for frame-by-frame reading • Movie-like sound effects and music (enhanced sound in zoomed-in mode)