Monsters and cars - fun for toddlers
, by
Shoto
, is a brilliant masterpiece... and it was designed by a four-year-old! Doesn't it make sense that a youngster would know what it takes to make a game appropriate for his own age group? These app developing parents took their son's drawings and game concept and let him lead the execution of the game, using his ideas throughout the development. The end result? An adorable, and oh so much, FUN app! To play, simply send the car to the monster who then eats it. This was followed by giggles galore with all the preschoolers we worked with. The catchy music, subtle audio of background sirens and silly monsters make this an app all preschoolers can relate to. Best part, they are learning basic foundational skills in a super fun and unobtrusive way.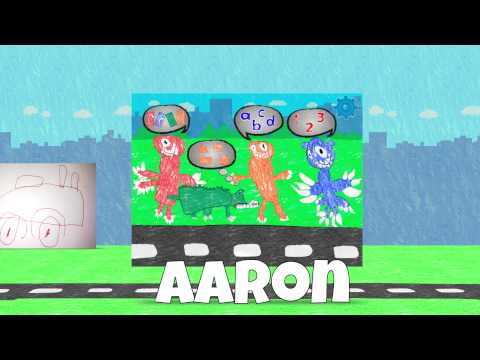 The app has 4 different categories to choose from including letters, numbers, colors, and shapes. The premise is to feed the hungry monster by choosing the correct wheel given by the audio, which then sends the car down the road to the waiting monster.
We applaud Aaron's parents, this was sheer genius. Monsters and cars are better than many apps created by grownups!
Some behind the scenes notes from Aaron's parents about the process of creating Monsters and cars:
Aaron would climb on the slide with his little chair, to sit while watching us. From time to time he would point his little finger at us and say, "Get to work!" The process of making his app took quite a toll on his patience. He asked us every day if his app was finished. He was also very demanding. It was clear he had a picture in his head about his app. He wanted to see everything - every picture, every animation and quite often he would reject our work. I chose the monster drawings I liked out of his drawing book, but he rejected all the alligator looking monsters, so we couldn't use them... even though I had already traced them. The same with my husbands animation, my son told him exactly how he wanted it and my husband had to start all over.
Now that his app is all done, I tell him every day how many apps he has sold. This is a concept he does not understand yet. He wants to know how they bought it, did they come here and buy it? Is the kid who bought it now his friend? Did the kid want to be his friend and that's why he bought it? Now when we go to town, he wants to know how much money he earned with his app so he can buy Hotwheels or Legos with his earning.