Otus-Student
and
Otus-Teacher
, by
Synvata LLC
, are two user-friendly, all encompassing classroom tools for digital learning environments. For any group with a 1:1 iPad initiative, this is the app, as they offer both a teacher and a student app. In essence, it's everything you need for managing teacher and student use of iPads in the classroom. Both teacher and student versions are free.
Otus has the best classroom and behavior management features we have found to date, in this pair of apps. They offer everything - managing class/students, assignments, assessments, polls, feedback, split screen, web browser, attendance, browse the web, and more - all in one convenient package. Best Part, Otus integrates seamlessly w/Google Drive and has ample video tutorials on how to integrate Otus into your everyday routine. We talked to one half of the development team, Pete Helfers, and he said:  "
All of those features my students will tell you are great. However, what I like best is that I can perform all of those functions (and many more) inside of one easy to use app. For instance, the bookshelf feature combined with the flagging feature allow me to store resources for my classes inside the app and then push them to either entire classes, small groups, or individuals. This makes curating classroom resources and differentiating instruction a breeze.  But the fact that I do not need to login to several different apps, or web-based services, to manage my classes is what makes using Otus a truly great experience for me. Simply logging in with my gmail account gives me and my students access to all of these powerful educational tools all in one place." One of the features that impressed Teachers With Apps most was the split screen component, as students are constantly going back and forth with websites and their notes!
KEY FEATURES
- Split screen browsing for simultaneous note-taking through Drive/Docs integration - Classroom organization with attendance, behavior recognitions, and flags for differentiated lessons - Assessment Center/Grade Book to create assignments, grade and leave comments in real-time - Polling for instant feedback - Digital bookshelf with the ability to organize and share all types of resources and reading assignments to individual students, groups, classes, or colleagues with one click
- Lessons, resources, and assessments can be tagged and searched by Common Core State Standards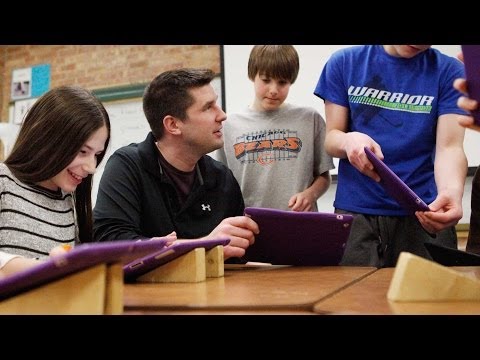 Chris Hull and Pete Helfers have been teaching together for seven years. They collaborated on many projects including professional development sessions for teachers, remediation plans for students, and a grant they wrote together in order to get 1:1 iPads in more than 10 classrooms around their district. They began working on Otus over two years ago when they dreamed up an easier way to get more out of the iPads they were using in their classrooms. Otus believes they are uniquely suited to develop a classroom tool for students and teachers because they are current educators, using the app they developed in their own classrooms, while they were creating and fine tuning it. Their goal is to make using 1:1 devices in the classroom better for everyone. Visit the Otus website to find tutorial videos and more information.