Sparky, the Fire Dog, stars in
Sparky's Birthday Surprise
, a wonderful family storybook app by
Cupcake Digital
and the
National Fire Protection Association
that comes just in time for Fire Prevention Week (October 6-12). This free app is available on the following platforms: iTunes App Store, Amazon App Store for Android, Google Play and Barnes & Noble App Store for NOOK. Sparky the Fire Dog has been the official mascot of the NFPA since 1951 and been helping educate youngsters for over 60 years on the dangers of fire and what they can do to make sure their home passes the Fire Safety Checklist. The book is appropriate for children ages 3-7, but older children can benefit from its lessons as well. The app is designed to teach kids essential fire safety skills such as what to do if they hear a smoke alarm, how to be safe when cooking, how to recognize things that may be hot in the kitchen, and having a predetermined meeting place outside.
Sparky's friends are throwing a surprise birthday party for him and as they plan the party and bake a dog bone cake, fire safety tips are installed by Pip the Poodle, the adult dog in the story. At the end, Sparky declares it's his best birthday ever, and a fire-safe one, too! The app doesn't end here, there is also a menu with several options for different math games, an informative snappy music video, and painting & sticker activities.
Highlights in Sparky's Birthday Surprise include:
THREE STORYTELLING MODES: Just a Book, perfect for the quiet reading time, Read & Play and Read To Me in which Early-learning reading skills are reinforced with text highlighting and synced narration.
FUN BAKED INTO THE STORY: Learn about the various parts of a fire truck and decorate Sparky's birthday cake with highly interactive pages found in the story.
LEARNING ACTIVITIES STARRING SPARKY THE FIRE DOG®!: Piñata Counting and Sparky Addition mini-games teach kids to count and add in fun new ways, and the Birthday Shapes game helps kids recognize basic shapes.
ORIGINAL SING-ALONG MUSIC VIDEO: Your child will love singing the "If the Smoke Alarm Sounds" song with Sparky and his tiny flea friends while learning about what to do when they hear the alarm.
COLORING PAGES: Kids can get creative with coloring pages featuring an array of paint buckets, brushes, colorful spray paints and stickers inspired by the story.
SHARED SCREEN TIME: The Thinking Corner offers thoughtful questions designed to spark open-ended conversation and reinforce reading comprehension.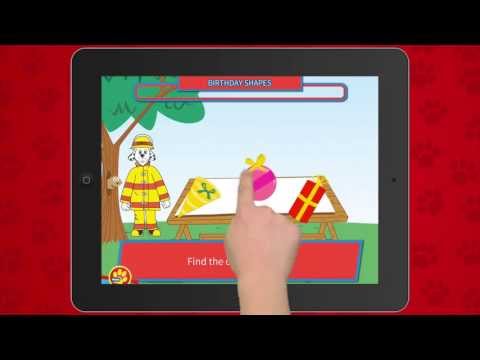 As part of our commitment to designing enhanced story apps with an educational purpose, we are thrilled to have the opportunity to work with the NFPA to provide life-saving information in a way that's fun and easy for kids to digest,"

says Cupcake Digital President Susan Miller. "This project has been a labor of love for our team, and has inspired us to continue to work with organizations like NFPA to deliver more apps that provide helpful information for educators, families, and kids in the near future." 
About Cupcake Digital
Cupcake Digital, Inc. was established in June 2012 and has been successfully transforming leading children's entertainment properties into enhanced story experiences and learn & play apps, giving kids a new opportunity to interact with the characters they love. The Company has created noteworthy, award-winning digital applications based on the Emmy®-winning television series Wow! Wow! Wubbzy!®, The Jim Henson Company's Fraggle Rock, American Greetings' Strawberry Shortcake as well as Discovery's Animal Planet brand.
There is even a
website
devoted to Sparky where kids can learn how Sparky joined the fire department, read about firetrucks, play games and read other books.