Splash Math Grades 1 to 5
, by 
StudyPad
, is an awesome new app that combines the best of their suite of math apps and takes you 
Cross-platform
! You can now access Splash Math through your
desktop
, tablet or phone.
This app contains an 
Adaptive Algorithm
, giving children the ability to learn at his/her own pace. Teachers will love the ease in which differentiation can take place within the classroom and parents can rest assured that their child is receiving a complete curriculum. Splash Math is available on iOS, Android, and on the web, making it one of the most versatile math apps available for kids. Best part, it's FUN and the kids love it! Splash Math has a winning formula which is far from skill & drill, they have all of their questions aligned to the common core and they appear in a completely engaging display of question type.
 Fun Features
Self-paced math practice program
Interactive math problems
Explanations for wrong answers
Virtual rewards and games for better engagement
Dashboard for real-time view of child's progress
Over 4 million children are using Splash Math to improve their math skills. Now with the release of this new iPad app, children can learn anywhere - on their desktop or iPad. Splash Math - Grades 1-5 provides personalized learning for children grades 1-5, so each child can learn at his/her pace. Children love Splash Math because it makes learning fun through games and rewards. Parents love Splash Math because it is aligned to the Common Core curriculum.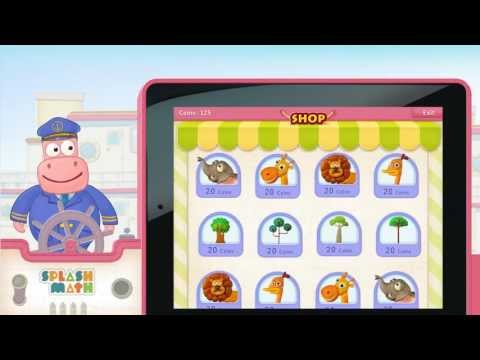 Subscription Price: $10/month and $79/year - A real bargain when you consider research shows children who practice math daily improve the most. That means higher accuracy and increased confidence, all while kids are having a splashing good time. Don't be surprised if a regular dose of Splash Math helps your child's grades as well!

Splash Math makes math fun and engaging for K-5 kids. This app reinforces key math skills with an interactive and adaptive math program. With 30 minutes, 4 times a week - you can sharpen your child's math concepts at every grade and skill level. **Key Benefits** 1. Increase math confidence and...