Squeebles Maths Race
, by
KeyStageFun
, is a terrific
addition to this developer's suite of adorable learning apps. If you aren't familiar with the Squeebles, they are a family of darling creatures that have gotten so popular there is now a whole line of T-shirts and other products available, with both the UK and American Store. Now on to the latest, Squeebles Maths Race offers stimulating 1-player or 2-player games, giving kids a wide variety of play options. What we like best is the ability to allow players of different levels to compete with one another. It is great practice for learning the four basic operations of math: addition, subtraction, multiplication, and division are all covered. The students we worked with were motivated by the Squeebles alone and loved selecting their own opponent using Min (beginner) all the way to the most challenging being Crunch (Super Legend). The drive to collect all 35 different Squeebles is also a motivator, and let's not forget the 12 flipfish! In a classroom setting the two player game and the competition can drive students to achieve higher levels than if just playing alone. We are always excited when we find an app that can easily accommodate more than one child. We love that the app allows players of different levels to compete with one another. This is differentiation at its best! It's very simple, in the settings menu, to set varying levels as well as operations. The app also has the finish line ruled by whoever gets the first 10 problems correct wins the race. If the wait time is needed, the game can be paused by simply not playing for a bit. There's also a FAB tracking system for parents or teachers.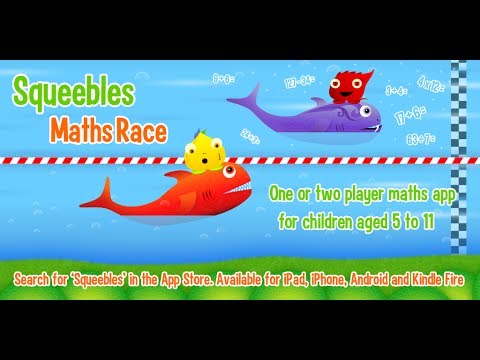 The app has been carefully designed to challenge each child's unique ability level, allowing players of different abilities to take part in a "Maths Race" against one another. For parents and teachers, the "Parent / Teacher Zone" can be password protected and contains stats for each child so that you can keep in touch with their learning and progress.
As with all Squeebles apps, they offer a happy, positive, and safe environment for learning. Their apps have no in-app purchases, no third-party advertising, and no active links.
Features:
 1  or 2 player mode lets you take part in a maths race against a friend, sibling or the computer.
Choose from addition, subtraction, multiplication or division questions.
4 difficulty levels allow each child to compete at a level appropriate for them.
Progress is tracked for each child so parents and teachers can see how they're doing.
With 35 Squeebles and 12 flipfish to collect, there are plenty of rewards for children to earn for doing well on the educational part of the app.
Password-protected parent/teacher zone contains stats and settings for each child.
Unlimited numbers of children can be registered with the app.