The Reading Train
by 
The Learning Station
 is an app aimed at setting students up for success in beginning reading and it delivers! Here you'll find books kids
CAN
read, will read and are ideal for the reader just off the training wheels. Libby Curran, a People Magazine Teacher of the year and a special education teacher from New Hampshire, based this app on her own writing as well as her award-winning books. "In order to learn to read, children need lots and lots of books," says Curran, who has helped
raise reading aptitude
in her district. The Reading Train has over  200 fiction and informational emergent leveled books with visual and audio supports so children can listen to, read and record the books all by themselves.
New feature: Text highlighting. Each word is highlighted in yellow as it is touched and held, to help children make the connection between spoken and written words and to improve word recognition. 
New content: There are now over 200 books, a 450+ word dictionary, and 20 songbooks. New books are added regularly.
The Reading Train

Blue Book Level A

Red Book Level B

Blue Book Level C

Book Choices

Make a sentence

Learn new words

Variety of Topics

Fiction & non-fiction

Main Idea
The Reading Train is one of the first apps to do a top-notch job promoting appropriate content for beginning readers.
Now it is even better, 
Introducing "how to" read books is not an easy task. First, word count is limited, repetition is necessary and picture clues are key. To pull it off and succeed with an engaging read, you need attention to simple, colorful, kid-friendly illustrations and an unpretentious storyline kids can relate to. These books consist of early concepts like the alphabet, numbers, colors, animals, and even some math. Libby Curran has pulled this off splendidly and it is evident that she is a master teacher of reading readiness! She had a leave from teaching with a Christa McAuliffe Sabbatical Fellowship, where she perfected her craft and helped train other teachers. She brought her program to fifteen elementary schools during her sabbatical year and they continue today as independent programs. During this time Libby also added to the series of books she had written for the lowest level reader to support helping more children experience the success and joy of reading. We need to be recognizing these incredible teachers that go WAY above and beyond in helping not just students, but teachers too! So kudos to you, Libby Curran!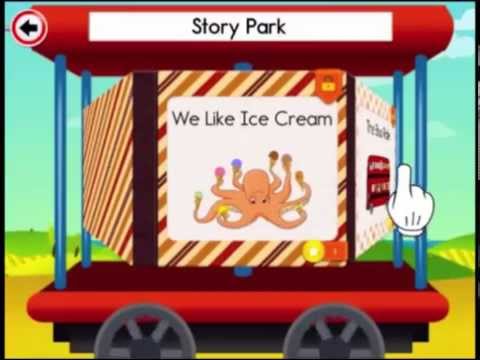 Now children around the globe can benefit from her expertise and
Teachers With Apps
wants to give the reading train a BIG shout out. Be reminded, this is not literature so to speak but a dynamic tool to augment any beginning readers program.
The Reading Train does more than teaching kids how to read, it helps them learn about the world and gain the foundational skills to succeed later in school. In between reading stories they can play the train quiz game, explore the FREE audio dictionary and listen to songbooks.
* Touch and hold words to hear them spoken and access the built-in audio and picture dictionary.
* Play the text-based quiz game after every book to learn phonics, spelling, vocabulary and comprehension skills and win coins to spend on sing-along song books in the music store.
* 3 different early reading levels corresponding to Guided Reading Levels A, B and C / DRA 1, 2 and 3 allow children to find "just right" books and read the complex
text while they develop as readers.
* Unlimited user accounts and individual bookshelves. Progress tracking shows books read and recorded and detailed scores on the quizzes.
* Pay the price of  $3.99 (one-time) to receive all the books PLUS regular updates with new books and songs. *($1.99 for Volume Purchases of 20 or more copies)
Reading Train Paid Version
There is also a
FREE Version of the Reading Train
which has in-app subscriptions*
Reading Train's SECOND APP:
Reading Train Alphabet - Paid
* Reading Train Alphabet is $1.99 ($0.99 for Volume Purchases of 20 or more copies). 
Books, songs, and games to build skills, self-confidence and a love of reading. Real reading, for fun and information, right from the start. "A dynamic tool to augment any beginning readers program" There is also a
FREE Version of the Reading Train Alphabet
 which has in-app purchases