Reaction to the new Common Core curriculum throughout the country is overwhelmingly negative. How do I know? One, I'm a teacher and two, I googled the words "common core" and switched up the location. From Indiana to New Hampshire, every hit brought me front and center to an article discussing the controversy surrounding the CCSS. Since I am a teacher, I don't want to add to the negativity that is so prevalent by writing about what most of us know is nonsensical. Just in case you are new to this topic, the new national education standards, a set of guidelines that were never voted on by Congress, the Department of Education nor by local or state governments has been adopted by 46 states are explained here.
Common Core
is a set of national, rigorous standards that changes the content and manner of instruction for students in grades kindergarten to 12. The standards are designed to ensure students are on track for college or career ready when they graduate high school. Wait a minute, since when does everyone go to college or have a career. Are the trades even considered, apprenticeships, interns? Apparently not. Finding out which states have not adopted the new standards was a bit of a challenge.  (The holdouts: Alaska, Nebraska,
Texas, Virginia and Minnesota has only adopted the English Language Arts component of the CCSS.) Rather than rant my own opinions I decided to share what is happening across America, from coast to coast, here are some of the headlines.
First, from my neck of the woods:
Emotions High At Common Core Forums On Long Island
State Education Commissioner Attends Events In Garden City Park, East Setauket
MINEOLA, N.Y. (CBSNewYork/AP) – 
Over the past two nights, hundreds of educators and parents on Long Island attended emotional forums with New York's education commissioner over new state testing. As CBS 2′s Carolyn Gusoff reported, about 800 people packed into the Mineola High School auditorium in Garden City Park on Wednesday night to give Commissioner John King Jr. an earful about
state testing and Common Core academic standards
. Protesters also gathered outside the school.
Emotions High At Common Core Forums On Long Island
GARDEN CITY, N.Y. (CBSNewYork)
 — The New York State Parent Teacher Association is calling for a timeout in implementing the
Common Core testing curriculum
 in schools. The Levittown School Board passed a resolution at Wednesday night's meeting which calls for New York State, the Commissioner of Education and US Congress to "reduce the use of and overreliance on standardized testing."
Levittown School Board Passes Resolution on Common Core
Common Core complaint: Teachers not deeply involved in development of new curricula
It's not surprising that the Common Core was the topic of many professional development sessions at last week's 
New Jersey Education Association
 Convention in Atlantic City. While the convention sessions differed in the subject area and grade level, a common thread in all of them was the lack of input from teachers in creating the standards and their accompanying tests. 
Common Core complaint: Teachers not deeply involved in development of new curricula
From Across the USA –
MONTGOMERY, Alabama
 -- The Alabama State Board of Education will consider today rescinding the only signed document in the state connected with the Common Core State Standards. If approved, the resolution would eliminate the state's 
2009 memorandum of agreement
 with common core developers the National Governor's Association and the Council of Chief State School Officers.
Some Think Arizona Is Trying To Trick Activists With Common Core Name Change
Some think that Arizona politicians are trying to trick citizens into believing the state has done away with the controversial Common Core Standards by changing the education policy's name. In late September, Arizona Governor Jan Brewer (R) issued an executive order telling executive agencies and encouraging citizens to refer to Common Core Standards as "
Arizona's College and Career Ready Standards
." Days earlier, State Superintendent of Public Instruction 
John Huppenthal had suggested the name change, explaining that he felt the term "Common Core" had taken on skewed political connotations
, according to AZCentral.com.
http://www.huffingtonpost.com/2013/10/01/arizona-common-core-name-change_n_4026018.html
Common What?
What is Common Core and why is everyone—right, left—so mad about it?
Everywhere you look these days, people are getting angry over something called the "Common Core." A Baltimore parent protesting was removed from a recent community forum and arrested for pushing an officer. A YouTube video compares. According to 
PBS NewsHour correspondent  John Merrow
, "the Common Core has become—depending on one's perspective—either an unstoppable bandwagon or a runaway freight train." But what is the Common Core? A recent Gallup poll found that more than 60 percent of the public has 
no idea
. When asked about Common Core in 
this video
, respondents answered that it might be a set of universal beliefs (like the Ten Commandments), an exercise plan, or perhaps a new diet.
http://www.slate.com/articles/double_x/doublex/2013/09/common_core_either_you_re_against_this_new_push_for_academic_standards_and.html
Common Core in the real world
Conservatives have attacked it as a "Nanny State racket," while liberal's denounced Common Core test results as "bunk" (Gewertz, 2013b). This year, legislators in nine states introduced legislation to drop the Common Core or to cut funding for its implementation (Bill Status Tracker, 2013). U.S. Secretary of Education Arne Duncan felt called upon to defend the standards in a speech to the American Society of News Editors saying, "The federal government didn't write them, didn't approve them, and doesn't mandate them, and we never will" (McNeil, 2013).
http://www.aei.org/article/education/k-12/accountability/common-core-in-the-real-world/
Florida Teacher: "I Was Among Those Who Reviewed the Common Core in 2009"
By 
Anthony Cody
One of the sticky issues regarding the Common Core remains the secretive way the standards were first written, and the almost total absence of classroom educators from that process -- which I first pointed out in 2009. To this concern, we have been repeatedly told that teachers were involved in a review process that followed this initial "confidential" process to write the first draft. The Common Core website features a document entitled "Myths v. Facts About the Common Core Core Standards." 
http://blogs.edweek.org/teachers/living-in-dialogue/2013/11/florida_teacher_i_was_among_th.html
THIS COULD BE ONE OF THE BEST CASES EVER MADE AGAINST COMMON CORE – NO ONE EXPECTED IT TO COME FROM A HIGH SCHOOL STUDENT
Speaking at a local school board meeting earlier this month, a Tennessee high school senior issued a brief and incredibly insightful address on the problems with Common Core standards. Ethan Young, a student at Farragut High School in Knox County, Tenn., made his case as to why he believes the school district should drop the new national education standards, a set of guidelines that were never voted on by Congress, the Department of Education nor by local or state governments. 
http://www.theblaze.com/stories/2013/11/15/this-could-be-one-of-the-best-cases-ever-made-against-common-core-no-one-expected-it-to-come-from-a-high-school-student/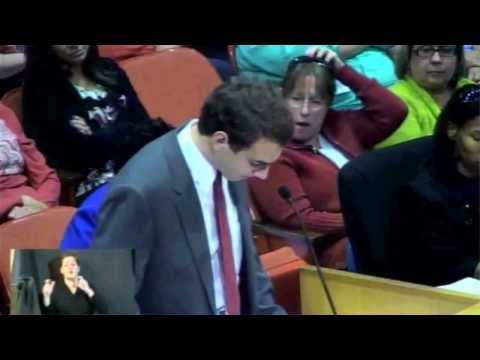 And, just in case you would like to get creative with the common core, check out this post from –
Instructional Shifts to Support the Common Core 
Are you looking for ways to effectively implement and manage the Common Core aligned classroom? 
The CCSS identify a spiraling set of skills necessary to prepare students for success. The standards are designed to teach students 
how
 to think. They call for increased comprehension, synthesis of information and the ability to clearly express learning. To facilitate the deep learning experiences supported by the CCSS, a shift in instructional practices is necessary.