Book Creator
, by Red Jumper, is beyond true blue, an app to design your own books with everything you could imagine you would ever want! Book Creator is completely open-ended, inspires children to use their imaginations, and has unlimited use in any content area. It is by far one of the favorite bookmaker apps for teachers and children around the globe.
Book Creator
has both free and paid versions. In the free version, students can build one book. Paying $4.99 allows the user to create an unlimited number of books and even includes comic strip templates.
               Easy-to-Use
I have used this app for over four years in my elementary classroom with children as young as first grade and as old as fifth. However, there is no age limit as many adults love the format and use it to publish and sell books in iBooks.
Book Creator
is simple enough to use that students can use it with minimal instruction leaving tons of time for creative exploration.
Book Creator
performs as advertised – students create digital books. First, students choose a format for their book; landscape, portrait, or square. Once chosen, users are directed to the title page. The title page, like all the pages in the app, allows for a variety of creative additions such as background color, text, images, and even sound. Text color, font, and size are customizable. Images can be imported from the device camera roll. However,
Book Creator
also offers the user the option to insert hand-drawn images using the drawing tools included in the app. As a child's story grows, the number of pages can grow too. Pages can be added as they are needed.
The ability to add sound provides ample opportunities for innovation. Sound effects can be added for whatever the child desires. Creaky doors, swirling winds, animal sounds, and roaring thunder to name a few, your choice of background music for each page can be included as well. In my classroom, students write and illustrate their stories and then record themselves reading them. Child-created books have traditionally been treasured keepsakes by parents the world over. Recording child's voices as they read make these memories that much sweeter. Below is a story that one of my first-grade students wrote after a rare Louisiana snow-day last year. The voice-over helps to make the story come alive!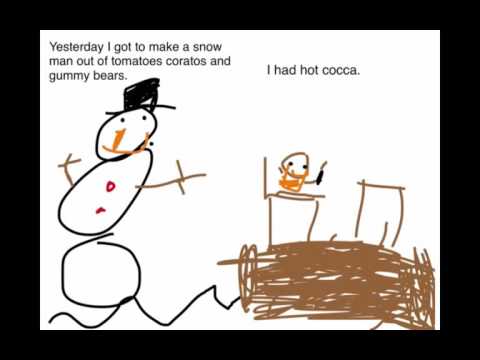 Comic Strip Templates Too!
The comic strip templates included in the paid version of the app, they expand the imaginations of students even further. These templates take advantage of the same tools as book creator, but Red Jumper has added comic-specific tools—speech bubbles, stickers, fun backgrounds, and shapes - even the infamous BAM! A variety of panel layouts are also offered. Sharing work is just another way in which Book Creator's developers have excelled. Taking into account a teacher's limited time, the app offers a wide range of sharing options including YouTube, iBooks, email, and camera roll. There are also a number of apps that are compatible with
Book Creator
. Teachers are never left to wonder, "Now what do I do with it?" The answer is always simple and can almost always be accomplished by the child independently. Multi-faceted innovation is the name of the game of
Book Creator
. Now, a child's writing adventures can be as swashbuckling as the stories used to create them. Book Creator's choices are as infinite as a child's imagination.
Classroom Ideas
:
Student digital portfolio
Short stories
Chapter books
Autobiographies/Biographies
Poetry
Book reviews
Research projects
ABC Books
Science journals
Collection of photographic evidence
Look no further for a better app, a suitable replacement is nonexistent. If you aren't using this gem by Red Jumper yet, hurry on down to the app store of choice and get going!