Digital Highlights - Toy Fair 2015
First, off the weathermen (or women) were wrong again! It is a mild 32 degrees and the snow that fell did not stick….
So excited to have stumbled upon a brand new app/book company called Powerful Plants. Al Benner had this brainchild and has blended organic gardening with a pack of seeds, a book, and an awesome app that teaches kids all kinds of great info that is so missing from our public school curriculum. Here is a quote from their website: "Look up. Look Down. The Power is All Around You... It's up to You to Use it Now!" This pairing of healthy habits installed with a package of seeds and a digital element should be adopted by every school and every parent. This combo gets the message across in a very hands-on 21st century way. Enough said, check it out now!
Crayola had a pretty amazing digital addition to their line developed by Daqri called Color Alive. Check out the dragon looming over Jo and me in the photo at the top of the page, that is a selfie! There is also a model that can be moved to create your own super hero in action, way cool.
Tiggly was rocking and rolling the show with their new prototype for their newest reading readiness app, loved the art as always and met Azi's husband - an architect that designed their wonderful display for the show!
We checked out Goldie Blox and was totally impressed by their enormous growth over the past year. With a mission statement like theirs, you can't go wrong!  "By designing a construction toy from the female perspective, we aim to disrupt the pink aisle and inspire the future generation of female engineers."
One of the major show stoppers was the Moff Smart Slap-on Band, watch the video to believe how cool this app is in making literally anything into a toy through the art of noise. "With Moff, what isn't a toy? Meet the smart slip-on bracelet that turns everything you touch into a toy."  Teachers With Apps hung out with Kevin Flannery and Co. and played some tennis. The "street performer" Nicky, shows all that this amazing snap band has to offer in the video below.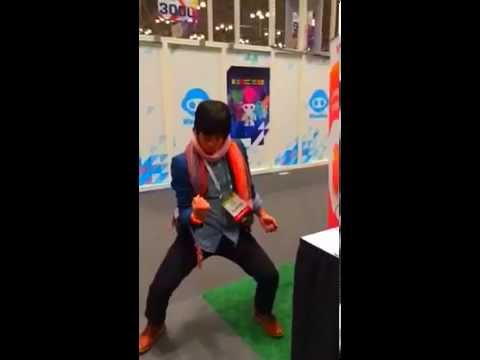 Marbotic flagged us down and we were delighted to talk with Marie about the classic wooden numbers that interact with the Ten Fingers app. Watch out this company has quite the potential to go far as we all know numbers, shapes, and letters of the alphabet will be with us for at least another 100 years, or so we think….
Other highlights as the day went on were:
Osmo - Met up with Erica again, we last saw each other on a plane leaving the ISTE conference, they have several new apps in the works and are exploring some new territory. Erica might be working the show with a skeleton crew as flights from CA were canceled.
Ozobot -This little robot is becoming a powerful learning tool with all the curriculum options they are posting! Ozobot teaches robotics and coding through fun, creative and social games. Each color pattern is associated with specific moves that Ozobot understands and performs, these patterns are part of Ozobot's colorful language called OzoCodes. We were uber impressed with all they had to offer, especially the creative element of customizing your own skin.
Puzzlets by Digital Dream Labs - This toy/app/console teaches kids to code with a neat hands-on experience. We got a great demo from Matt who graduated with a Master of Entertainment Technology from Carnegie Mellon University. You really need to see this one to understand the concept, its sleek and embraces the tactile experience.
LightUp - This trio of Standford graduates - one a teacher, another a student of medicine and the third an engineer, have a stellar concept! The threesome created an electronics kit to empower every kid to understand and create their own electronic devices. LightUp helps kids understand the fundamentals of technology. This teams enthusiasm was most impressive at the end of a long day!