We all love and know Dr. Panda apps for their kid-friendly and open play designs. Dr. Panda School by Dr. Panda Ltd is open and ready for students, so you'll need to get registered and sign up for classes today (least they be filled already). Many kids who are beginning pre-school or kindergarten experience stress and anxiety from what to expect from a day at school. There are so many unfamiliar sights, sounds, and routines, and it's easy to be on sensory overload in a matter of minutes. Dr. Panda School is an app that allows the preschool set to take a tour and play with many of
the activities and routines that they will encounter. The kids have total control in this app, and that includes adding as much as possible to the mix or playing a preferred activity for hours. It's a genius layout – by giving kids a say in their play, they can learn what works and what doesn't…in terms of where their thresholds and interests lie. So grab your backpack, get on the bus, and let's go to school!
On opening, the gang is on the bus and enters into the school on their own accord. This is big girl/boy territory and is much more sophisticated than daycare. If you're thinking that you already own Dr. Panda's Daycare, so what is the difference? That difference is huge. The School has a much bigger range of items to explore, and it's clear that the environment has demands on the child to be more independent and problem solve to discover the inner workings of the school rather than be reactive to environmental influences such as a bouncing ball. Very subtle, but all I can say is WOW! As an adult, it was interesting to watch kids play this app. The ones that already rode a bus to school were enraptured. They knew the routines, and where they were going to have the most fun – and made a beeline for it. The rooms to explore are:
The ABC Room is a traditional learning area with centers. The computer center has a traditional desktop, a tablet, and a working printer. And behold…the teacher's desk with an electric pencil sharpener, so kids can make those pencils nice and neat! There's a chalkboard that doubles as both a board for addition and subtraction and coloring with chalk, as well as a projector display that is loads of fun. Some of the tools are presented as a visual but are not functional tools or play objects. Items such as scissors, a compass, and even drawing on paper with pencils were not accessible to anyone that played the game, but most of the kids focused on the interactive objects that they could play with and did not care if something was not interactive. They moved on and were much more flexible and positive than the adults viewing the kids at play.
The Art Room has everything! From an easel for painting to a real wood shop for making cool projects out of shapes. Love, love, love the workshop for its introduction to spatial concepts and construction.
The Hallway has lockers and a video monitor to view the weather and other instructional scenes. There is a waiting room for the school nurse as well as the top secret "Janitors Closet" that contains all the cool and fascinating gadgets like the mop bucket. *Sigh*, I still wish I had one of those! There is a potty with the implied message that kids can potty on their own, and that is a most powerful and empowering message that you are growing up.
The dining area is a favorite for young and old alike. Operate a vending machine, or cook yourself something from the recipe board. Making healthy smoothies was a snap, and could lead as a precursor for picky eaters to making up something in real time.
Outside is a virtual playground to learn the sequence of play equipment and an introduction to outside games. Dig in the dirt, and grow real plants! Items can be transported into any area through the character sign in the lower right field. The puppy was able to plant the yellow tulips through this teleport system.
Kids loved the easy play and discovery mode of this app and played until they were asked to share. All were spellbound and enjoyed the fact that they were in the know of all the routines. One of my guys, after a stressful day at school, actually seemed to settle and decompress as he played Dr. Panda School. It seemed to give him time to process and let go of the day's worries. A TWA Pick!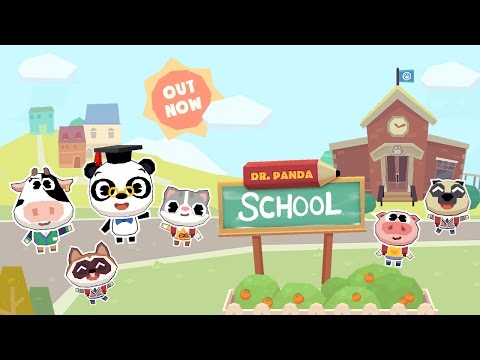 Jo Booth OTR/L has been an Occupational Therapist for over 35 years, and currently practices at EasterSeals of SEPA, Montgomery County Division mainly focusing on Early Intervention. It is an APS (Approved Private School) and home outreach based setting. She has also worked in Adolescent and Adult Rehabilitation. Writing reviews for Teachers With Apps have been a tremendous opportunity and experience to share and learn with others.