Fido and Pumpkin Position Words
by
Sakura Imaginings
concentrates on a highly important and often overlooked preschool skill: directional words.This is the understanding of words that indicate the position of objects such as: where the person, place or thing is. Prime examples of that would be under, over, between, inside, below, etc., what might seem obvious to an adult is still a rather abstract concept for the young child. Want to try before you buy?
This adorable app is a perfect introduction to teaching this skill. The collage style graphics are colorful, playful, and easy to decipher for the young eye. The characters, Fido and Pumpkin are playful and engaging and they do a stellar job of demonstrating these concepts. The navigation couldn't be easier and the developer has clearly chosen icons that are relatable to this app's target audience. 
As each scene is entered the child is first presented with an icon of an eye, which when tapped, brings the characters to life. Next, an ear icon automatically appears and reads the accompanying text for the child. They are then given three choices of where the object appears in the scene and by tapping on each of the three eyes the choices appear both as text and are orally read for the child. These options can be repeated if the player needs more time to decide where the object is in relation to the introduction sentence. When a correct answer is tapped a quick star reward is given and the gameplay continues.
From an educator's point of view, what really stands out is that when a wrong choice is selected, there is no penalty. Instead, the characters act out where the object would be according to the child's choice and the child is then given another chance. This demonstration of where the object would be according to the child's selection gives this app an authentic and visual way of showing the child the actual where of the various position words. Therefore, the child receives constant reinforcement and doesn't feel discouraged when a wrong answer is selected. There really is no wrong answer when it comes to the learning experience. Upon completion, paw prints appear and lead the child to the next exercise with directionality with their new found friends.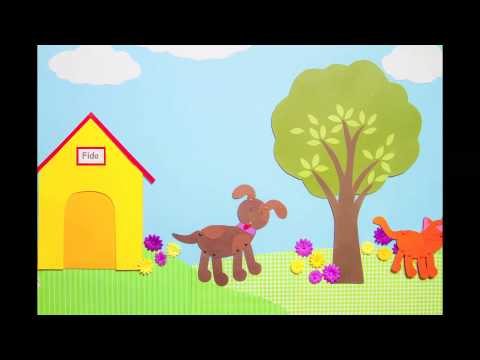 Initially, my wish list was to change the ear icon to your basic audio icon, which even the youngest children easily recognize. Upon further play, it became apparent that the icon of the ear matched the icon of the eye and was indeed a better choice. My hopes are that this app continues to add new concepts and more practice as I think they have the potential to be an excellent app.
Also, Check out the new Fido and Pumpkin Position Puzzles for FREE!
FYI - Don't miss the FREE resources on their website: