Highlights Literacy Retreat by Dust or Magic 
 brought a brilliant group of diverse thinkers involved in education together to discuss the future of the digital space. This gathering of professionals with expertise in differing sectors including researchers, teachers, app developers, and reviewers is a perfect catalyst for getting the conversation going about our present day educational system. What might the ramifications be if we could join forces and work together? It has been a privilege to take part in this stellar event. No pun intended, here are some of the
highlights of the event:
This function was hosted by the notorious 
Warren Buckleitner
, of the
Children's Technology Review
and 
Daren Carstens
, the gifted developer of amazing apps that instill the love of learning math. The opening presentation was given by
Kate Wilson
, founder and managing director of the multi-award-winning, independent publishing company
Nosy Crow
. Kate set the stage and raised the bar for the entire event with demonstrating the infamous Little Red Riding Hood app released in 2011. What an honor to have time with this incredibly dedicated leader, she kept us laughing with her a wry sense of humor and honest sentiments. Nosy Crow delivers great illustration, great design, great audio, great video, great animation and of course really great writing in all of their multimedia! Warren gave an overview of the
Bologna Ragazzi Digital Award
winners and a lively discussion ensued regarding the criteria involved in picking winners.
Dr. Katie Paciga
from Columbia College Chicago and the TEC Center at Erikson Institute shared a wealth of incredible research regarding literacy and how it overlays onto new digital platforms. Katie shared theoretical perspectives about literacy development and spoke about the importance of engaging a child's interest in the content. She also stressed the significance of the role of scaffolding and feedback in the learning to read and write processes.
Gail Lovely
 showcased an inspiring project she is working on in a rural school that is piloting iPads and doing amazingly sophisticated activities, a real inspiration to all. She also gave an overview of some of the latest and greatest in the app store. As always, Gail is passionate about what she does and a true teacher.
Dr. Michael H, Levine
and
Lisa Guernsey
; authors of recently published book
Tap, Click, Read: Growing Readers in a World of Screens
shared their book project in conjunction with New America and the Joan Ganz Cooney Center at Sesame Workshop. Every attendee was given a copy of this must read in understanding equity in this new technological age. Lisa and Mike shared their experiences in the writing of this must read the book, it gives a clear understanding of the shift in the learning processes and outlines the vision for literacy in today's world. They also have heartwarming videos of some of the projects that exist in different areas in need of early intervention.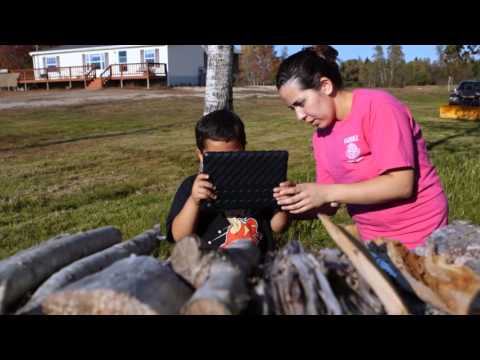 To watch the other 4 videos Click here.
Catriona Wallis from the design firm Colto arrived and shared the exciting news that they had something original in the works with a trusted and familiar brand and gave us a sneak-preview. This app will not disappoint so stayed tuned for more on that in the next few weeks. The evening was spent sharing via a show and tell venue of great work and epic fails, both the magical apps and the apps that have metaphorically turned to dust. The conversation continued surrounding the absurdity of the standard price of apps being considered expensive at $1.99. This thread ran throughout almost every conversation. Ethics in digital programming and its use was a theme throughout the entire retreat.
The next morning was a potpourri of more sharing, we covered apps for teaching pre-writing and handwriting skills, Sandhya Nankani showcased HangArt, a striking new app combining a new visual take and twist of the much-maligned hangman game. This beautiful app encourages children to create art and then write imaginative digital stories with a focus on learning sight words.
Kent Brown of the Highlights Foundation was a gracious host throughout and kept us entertained with stories from long ago. Kent is carrying on the Highlights family tradition for their generosity and steadfast efforts to promote and support creative people involved in the world of children's literacy.
Special thanks to all of the teachers that came out to be part of this awesome event. Please bring back the wealth of knowledge acquired to your colleagues, administrators, and parents and be the voice to help get the message into schools: pedagogical expertize along with content and execution is everything when developing educational multimedia!
Love Highlights Magazine? Highlights Every Day!