The
Krayon Kiosk
is an interactive education and gaming station for children age 2-8 years old. Brightly colored and resembling a jumbo crayon, it includes four iPad mounts, designed to inspire collaborative learning. The Krayon Kiosk also offers the option to receive a free curated list of educational apps that they stand behind. This company believes in the 'seek and discover' approach to education, allowing young minds to pursue and interact with the educational content they desire.
"We now know that technology by itself is not a game changer, but that tablets, in particular, have the potential to open up the world's rich store of information to willing minds and expert instruction,"
says Michael H. Levine, executive director of the Joan Ganz Cooney Center at Sesame Workshop. The Cooney Center is an independent research lab focused on emerging education technologies.
Create a Fun Learning Environment!
Fun is at the top of any kid's to-do list, and quality educational apps coupled with an iPad kiosk can result in both a fun and productive learning environment. When a child's senses are fully engaged via sight, sound, and touch, their learning experience is sure to create embedded neural pathways. Aridan Books is happy to use modern technology to create such an interactive learning experience for kids using modern technology in a fun and unique way.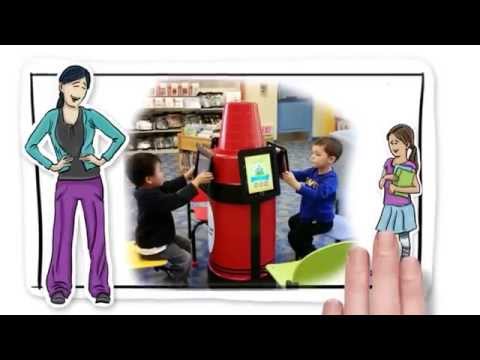 iPad Kiosk Stands Fully Engage Young Minds
These brightly-colored stands (available in red, blue, and yellow) are customizable to the needs of your business. They are already stationed in libraries and other learning facilities across the US and Canada, fully equipped with some of the best educational apps. It is Krayon Kiosk's goal to create an environment that touches young minds and helps them to grow.
Contact the Kids Reading App Pros for a Customized iPad Kiosk Stand
For more information about how Aridan Books can help you to develop a customized iPad kiosk stand, loaded with the best kids reading apps and other educational apps, contact them by calling 516-208-2331 or
contact
 directly through their website.
COMING SOON ~ Teachers With Apps will be assisting Krayon Kiosk in the curation of quality educational apps!