Sometimes humor is a great way to tell a story and often propel you to think deeper, show us hidden truths, and some say and it can even reveal tragedy. With that said I present:
John Oliver
  - News to me that he has had his own show for over a year, this Brit's humor is over the top fun! Last week he dedicated a segment of Sunday's 
Last Week Tonight show 
to exposing the insanity of standardized tests. According to
Ryan Reed
from the
Rolling Stone
 magazine, "The system is flawed in every aspect. Many of the tests are impossibly challenging, fail to reflect ability in a practical sense, include error-laden questions and are graded with shady scoring tactics." John did a bang-up job with this wonderful parody if you have the time and want to LOL at our absurd tactics surrounding the infamous "standardized test" watch this!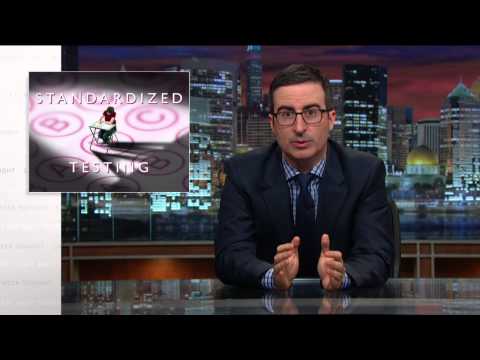 The host opens the segment by highlighting schools' absurd methods of pumping up students for the exams – from test-hyping parody songs to pep rallies (like one in Texas that featured the Funky Monkey mascot). But nobody's laughing about standardized tests, which often put unfair pressure on teachers and students. 
For those of you out of the "know" like myself here is a
bio of John
and below is a description of the show:
*Last Week Tonight is a half-hour topical comedy series hosted by John Oliver ("The Daily Show", "Community"), presenting a satirical look at the week's news, politics, and current events.
"At this point, you have to ask yourself: If standardized tests are bad for teachers and bad for kids, who exactly are they good for?"  
John Oliver