It's no secret that we love the Grandma/Grandpa series by
Fairlady Media
, and
Music with Grandma
is no exception.
Fairlady Media
has ventured into apps for kids a little older with
Music with Grandma
. Intended for children just beginning to discover music or playing an instrument (ages 6 and up), I have found that kids a little younger are also capable of playing the games with confidence, requiring only minimal help to pursue the activities. Every aspect of this app adheres to
Fairlady Media's
high quality of standards and is packed with 8 different games and video to cover all the material that beginning musicians will need to play an instrument.
Music synchronizes patterns of sounds and helps with the development of auditory processing, spatial skills (including movement), and academic skills. Through active listening, we learn about space – how near or far something is and when to modulate our movements. When we are "in-sync" with the rhythms of the world around us, it is easier to relate to others because we feel comfortable and relaxed enough within the environment. It is this ability to self-regulate that sets the cornerstone to learning. Sometimes merely adding a rhythm or beat can help kids modulate and complete tasks that were completely overwhelming just minutes before. Music also helps to regulate our emotions and how we feel, i.e. exercise classes like Zumba just wouldn't be the same without the music, and bedtime is always sweeter with a lullaby. And this is where
Fairlady Media
takes us. By using the familiar characters of Grandma and Grandpa, kids are relaxed and able to explore and experiment. As with all their apps, it is student driven which helps to ensure retention.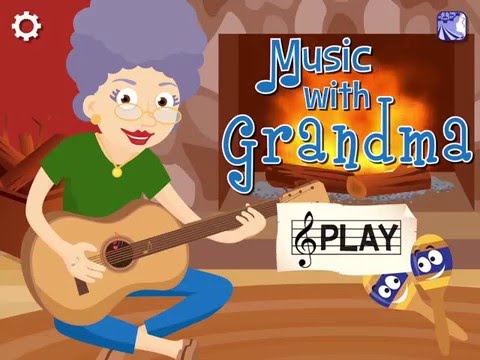 On opening, we are greeted by Grandma and launched into the world of the musical play. As mentioned above, there are 8 different activities to pursue, plus some added bonuses that are just pure fun.
Which Instrument Do I Hear? Although kids can answer this by trial and error, it does help to have some knowledge of instruments and their sounds and teaches auditory discrimination.
Complete the pattern challenges the ability to discriminate musical note patterns on a staff, and predict what comes next. Although kids do not necessarily need to know notes on a staff, it does tap into visual discrimination and ties it to auditory experiences, and knowing the notes will lend relevancy and meaning to the play.
Play the Timpani is a fun reinforcer that allows kids to play the Timpani drums. Tip: tap on the speaker to hear music to sync your drum playing. The music selected is absolutely beautiful, and adding the tympani drums seems like a privilege.
Follow the Signs – This is a maze type play screen and one to learn the different notations for playing music. Younger kids can follow the patterns and learn about following a visual pathway. It is a great way to recognize symbols, and also learn the musical terminology.
Find the note asks for recognition of note placement on both Treble and Bass Clefs. If you pick a wrong line placement of a note, the app displays notation and placement of a particular note.
Play the Hand Percussion – allows kids time to experience and play 8 different hand instruments. Having these on hand after a little practice on the app, really helps dyspraxia kids know what to do and gives them valuable experience as a way to mark time with the rhythm. And what could be more enjoyable than a big box filled with making different sounds?
Music Stand Match Up consists of a variety of musical notation concepts and the ability to recognize notes, playing, and sound references. From the sequencing of knowing what a rest means to play a note at its full measure. What a resource in learning what makes sound music!
Musical Sorting introduces modulating sounds through notation or sound. Getting to view a metronome or grading soft to loud sounds, puts kids in control and in the know when learning to play an instrument.
Grandpa's Attempts at Playing an Instrument is laugh out loud funny because he is just awful! I love the hidden message in here that it is OK to make mistakes, and with practice, one can refine and master an instrument. Tip: Before listening – don't tell Grandpa you were forewarned to cover your ears by Grandma!
Play the Keyboard is a well thought out interactive keyboard. Options are huge and include the ability to have keys/notes as labeled, viewed in their natural state, or presented as a sound smorgasbord using fun animal and other sounds like a drill or robot.
And Grandma's and Grandpa's Famous Home Video's! Drums, Brass Instruments, etc. It's time to snuggle down and see music in action. These video segments, meant as reinforcers, are priceless in their ability to tie in real life experiences.
Music with Grandma
is a superb app introducing musical protocol and experience. The app is completely driven by the child, and may only need an occasional prompt or assistance with completing a task. Music, after all, is an individual experience, and one to be savored than shared. A TWA Top Pick, and a fav!