Pepi Super Stores
by
Pepi Play
, the latest app from the popular Pepi Play, is an absolutely stellar exploration app for ages

3 to around 8

of both genders. With more than 30 new characters introduced, this game will never grow old. The vast array of different "Pepi Stores" or shops, restaurants, and services are easy to navigate and designed in, of course, a kid-friendly way! There are even aliens and futuristic machinery included in this fun learning experience. Kids can choose to explore shops as diversified as hair salons and photo booths to sporting good stores as well as the music shop run by aliens! Not only can you explore and play in the different shops, restaurants, and varied establishments but you can also move the characters and all merchandise and props around, the possibilities are literally endless! Kids we played with LOVED the ability to create their own play/story and were thrilled with the quirky food, brilliant wow factor, and entertainment options galore! And yes, we know that play is the highest form of learning!
Pepi Play has always been known for their creative gameplay and whimsical characters. This app is no exception, and it is absolutely super-sized. Not by the quantity but by the diverse choices kids are given to use their imaginations and play in completely unique environment with limitless choices. We think that a good app should teach a child something but it has not necessarily to be 'educational' in a form. New technologies offer variety of possibilities that we seek to embrace while making process of learning meaningful and interesting for a child.
FEATURES
• 34 new characters including weird, but friendly aliens from space! • Ability to change character clothes and hairstyles! • Become a fashion designer to create clothes with your favourite graphics. • Dozens of accessories from hats and glasses to hundreds of items your characters can hold. • Use, mix and match any item and equipment You can find and get surprising results! • Different scenes, from groceries to sports, to restaurants and beauty parlours! • Fantastic machines will ensure hours of fun, experiments and good old giggles. • Gender-neutral artistic approach. • Wonderful and emotional animations and sounds. • Can be played in many ways. It's all about experiments and adventure. • Use the elevator to move items between floors to find even more different combinations. • Dedicated for 3-8-year-old kids, but will bring joy for the whole family.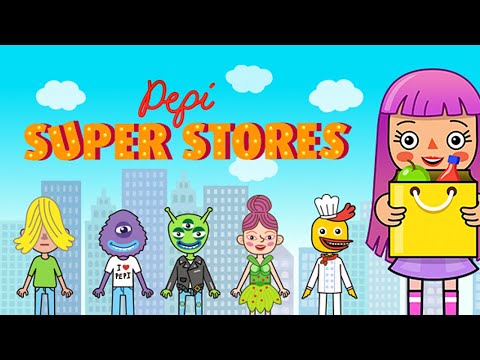 iOS:
https://itunes.apple.com/us/app/pepi-super-stores/id1198599796?mt=8