Who is Phonzy? Well, Phonzy is a crazy fun dragon-dude that helps kids with practicing the often arduous task of articulating specific sounds or blends and sounding out words.
Phonics with Phonzy
by
Meowtek
is being released today! It is so wonderful to see this technology come to life as it provides a friend and a safe place to practice sounding words. Placement of the sound is usually in the front or beginning of a word, but there are some blends and sounds in other positions as well. There are 7 Sets in all, with 6 target sounds in each set, including both consonant and vowels that will keep kids entertained while refining their speech.
The play is straightforward and refreshing. The graphics are simple without visual or auditory clutter, so the focus is on watching Phonzy and how he produces a sound. This in itself is well worth checking out this app. A lot of times, when trying to dazzle customers by all the bells and whistles, the function or intent is short changed in playing the app or trying to work on achieving a specific goal.
Phonzy sounds out either sounds or words by showing the position of his lips, teeth, and tongue. This ensures that kids can see how to do it, and provides the impetus that they can imitate accordingly. Once you are done sounding out the 6 sounds and words, you can play with Phonzy! Oral Motor positioning/strengthening is presented as a reinforcer by either making funny faces or making funny sounds. When making funny faces, you can take your picture with Phonzy! Making funny sounds allows a playback that is hilarious by sounding out your vocalizations either as a mouse or dinosaur. This makes for silly fun that inspires you to continue. Printing out your funny face with Phonzy will truly be a hit to take home and show Mom and Dad.
The narration is superb and has just the right intonation and encouragement. The listen or playback feature is a bonus in taking data for clinicians or families. I did have some difficulty with arbitrary crashes and difficulty with progressing through the levels. These things can all be fixed in an update. I would also love a pause button inside of the phonics sets themselves. If there were a pause button, kids that were experiencing more difficulty could stop, take a breath and maybe practice that sound before submitting it to Phonzy.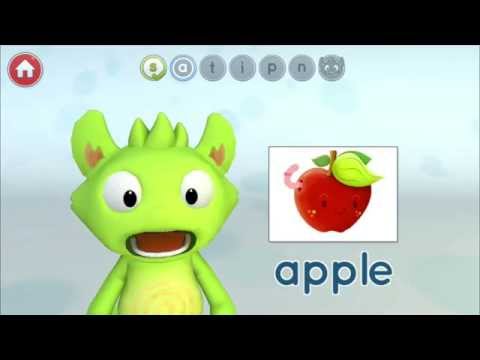 I want to shout out to Meowtek…for blazing new trails! They are making learning fun!
About the Author
Jo Booth has been an Occupational Therapist for over 30 years and currently works in Pediatrics with early intervention. She sees kids newly diagnosed on the spectrum as well as medically fragile kids. She loves to move, explore and play every day; so that "her kids" grow up to be healthy independent learners.