The Dust or Magic App Fest kickoff began with developers eager to do some field-testing and kids all eager to do serious playing. The demos began with Endless Alphabet's  new release Endless Spanish, which was just well received by the crowd. In tandem, kids continued to play and developers continued to do quick presentations. The anticipation of Fairlady Media's Grandma's Preschool and its imminent success was discussed as well as the much awaited new release from Daren Carsten called: Attributes by Math Doodles. The afternoon spun into a whirlwind. Seeing friends and making new, as well as finally meeting people that Teachers With Apps has known for years but never met in person, it was beyond exciting. I got a quick preview from Luca Prasso of the latest and greatest coming from Curious Hat. Warren Buckleitner of CTR pulled it all together once again. Thanks to co.lab for hosting. Oh, and BTW, that retired teacher who runs TWA and could never speak in front of adults ended up on the Critic's Panel along with Christine from Common Sense Media and Warren from the Children's Technology Review. Space was a buzz of chatter and kids were engaged everywhere you looked. It was an awesome afternoon well spent!
I also got a sneak peak at a very cool new product, a toolbox for budding engineers that allows them to create and tinker with electronics by playing Minecraft. Very cool toy from a company called Piper that is part of the co.lab organization. Check out their kickstarter here, Steve Wozniak contributed!
co.lab is an accelerator that works with startups leveraging the power of digital games to build transformative educational technologies for PK-12 students and teachers. Our model is built upon a belief in the need for innovation in education, and in games' potential to enhance learning – by creating virtual sandboxes that encourage experimentation and engagement, offering new opportunities for collaborative interactions, and unlocking new ways to assess cognitive and social growth. Our program is designed to add value to early stage edtech companies while generating knowledge that will help designers, educators, researchers, and funders better understand challenges and opportunities related to developing high-quality learning games and applications.
Dust or Magic Sunday Night & Highlights for 2015
Virtual Space
Price of the apps increasing
It is still a small space
App Camp - On the panel the line up was FAB collection of different developers from Bjorn from Toca Boca, John Crough from TouchPress on to legend Dan Russell Pinson from the classic Stack the States app. StoryToys brother, Barry O'Neill and Oceanhouse Media's CEO Michel Kripali, shared their take on what is going on in the edtech space.
Dust or Magic App Camp 2015 State of the App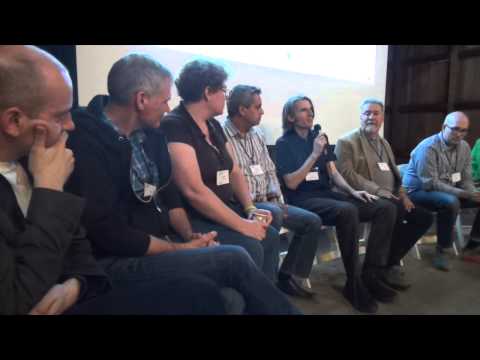 Warren Buckleitner and Scott Traylor moderated App Panel
We really don't know where this market is going; Harley Baldwin from Schell Games shared the notion of curation and subscription. Mark from NoodleWorks compared the era of the CD and its bust and that the app market is more mature.
Nailing the micro niche and doing it very well not trying to go abroad can make a big difference, differentiation is the new focus. Shake up, merger and consolidation will ensure causing some tragedies but ultimately being a good thing for the digital space. The hope of the school market adopting and implementing the power of the tablet is still far off; we are all wondering when it will finally come to fruition. And the concept of Apple allowing for curation in the market place, if you like these apps then you will like these, branding and trust being built.
We heard how Toca Boca planned their branding way before they ever wrote a line of code. Nothing should trump the branding concept, maintaining quality and affiliations with quality are essential. What a journey this company has had in a very short time frame, taking risks and being at the cutting edge has propelled this brand, it hasn't been easy staying on the top.
The moderators discussed the comparison between David and Goliath; the big companies suffer from lack of imagination, which limits their quality. It was mentioned that Apple could help define categories such as books apps and iBook's and cross-reference one another. We all know how bad the app search can be if you don't have all your t's crossed. If Apple iTunes allowed a tiny ping notification of new app release to a former customer it would greatly help a brand. Search options in the Apple Store need an overhaul, the iTunes search is terrible. Google knows search and Google Play is much better at discoverability. Warren insinuated the app world is a windy space, has sharks and the waves of change are just beginning...
TBC