The Voyages of Aladdin and Sinbad
by 
BelMontis Publishers Pte. Ltd.
 has just been released. This is the second in the series of magnificent multi lingual storybook apps for young readers! This charismatic tale is recommended for children ages six to eleven, and we are sure that many adults will also savor this awesome adventure just as much as any child. This is a classic story that has taken a new twist in letting the reader decide the path by asking which way should they go? Reader, can you help them choose? This app book was written by Jose Miguel Vilar-Bou and Matias Alinovi and illustrated by Alejandra Zuniga Cardenas, a talented team that takes the finest care in every detail. The reader has the choice between English, Spanish or Chinese and they have been so thoughtful as to also give options for the main text to be shown translated into another language below the chosen text. 
Belmontis
has a knack for continuing the tradition of a
GREAT storytelling
! Not to mention that the art alone is spectacular if you have children in this age range. This is one app you don't want to miss (or you may just want it for yourself).
This is one involved tale that will keep kids enthralled throughout, so don't let the amount of text on the page scare you away. The incredible illustrations always have some hidden surprise and you may even get to pick your preference. The delivery gives this app a tremendous shelf life and I was brought back into the adventure, driven by curiosity and the need to know that I was not missing anything. This happened again and again until I realized that I needed to share this review with my audience and give all of you a chance to wander off into this magical tale of two heroes searching for the precious lamp in hopes of bringing peace and goodwill back to their homeland.... Aladdin and Sinbad traverse from one island location to the next in search of recovering the Magic Lamp. My story may end differently than yours, as in mine they found the cherished lantern in the Upside-Down Kingdom after much speculation as to just how much might be "upside down" here in this strange land. After answering a series of questions that were all surprisingly correct if upside down, the duo fought off an army of cast iron warriors by catching them with Sinbad's powerful magnet that he had been gifted earlier in the voyage! And before their very eyes they saw the magic lantern also being pulled by the magnet, alas, Aladdin was too quick and he plucked the lantern from midair and this epic quest came to a close with big smiles on Aladdin's face. Now, let's backtrack, in order to find the treasure, Aladdin and Sinbad needed to cross five different worlds and deal with a plethora of adventures from the Kingdom of Aladdin to the Land of AllForgot, and on to Bubble Island to name just a few. You will need the detailed map to help you make decisions and plot your course in this epic voyage. Hurry, a perfect holiday gift to share and share again! Features • An intriguing search in which the reader will be fully engaged; he/she will choose the path for our heroes! • A non-linear narrative. You will be opening a new book every time. • Original story and beautiful illustrations with animation • A variety of interactive touch-points to enhance the reading experience. • Advanced readers will be able to unlock more stories. • Integrated on-page translation and multilingual vocabulary/expressions section with audio at the end of each chapter. • Original music by Javier Bustos.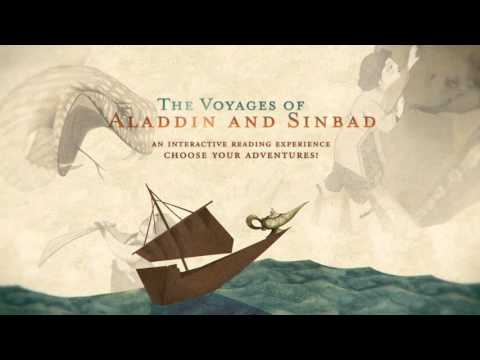 Read the TWA review of 
Rom and the Whale of Dreams
.